Project Risk Analysis Guide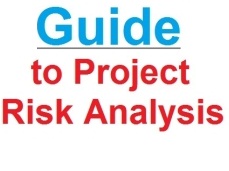 The Project Risk Analysis Guide provides general recommendations and guidelines regarding the decisions and processes involved in risk analysis. It presents a simple yet practical approach to help project managers, analysts and other personnel in getting started with identifying and managing risks affecting their projects.
The Guide does not provide a definitive explanation of all the methods, techniques and tools that can be utilized in complete risk analysis and management. But this document highlights an approach that covers the fundamentals for implementing an effective risk analysis. This approach can be used in most projects for analyzing and responding to most types of risk.

Download Project Risk Analysis Guide
(PDF file, 350Kb)
When beginning to work on the development of this Guide, we wanted to create a risk analysis document that could help any project manager in managing any type of project. We tried to combine best practices of risk analysis and management into this Guide. Hopefully our work will be really helpful for you.
When to Use the Guide
This Guide can be applied to most types of project. Meanwhile, for a certain range of projects the Guide will be more beneficial. Same examples of the projects are as follows:
Innovative and technology projects
Projects with precise and predetermined requirements, incl. legal, insurance or contractual
Projects requiring fast tracking capabilities
Projects with large capital outlay or investment
Environmental projects with sensitive issues
Projects significantly dependent on socioeconomic, political and financial determinants
The risks of any project to be managed under the listed below circumstances can be analyzed and treated with this Guide,
There are specific targets that must be hit at project completion
There is a need to manage the project at points of change in the life-cycle
There is an anticipated new phase in the project
The Guide can be used by any people involved in project risk analysis and management. These people are likely to perform the role of a project manager or project analyst. Other roles assigned to the members of the project management team are also involved.