A Guide to Nearshore Software Development in Mexico
The benefits of nearshore software development in Mexico are huge and come with the potential for reduced expenses. However, while the Mexican IT services market has grown in recent years to hit 14.5 billion US dollars in 2022 (source: BMI Research, 2023), the idea of Mexico's nearshore development still needs to be clarified.
Some American executives still envision high-rise buildings, poor-quality software, and high costs. However, Mexico, along with other LATAM countries, is one of the most incredible nearshoring destinations in the Americas regarding the volume of work and profitability for software development.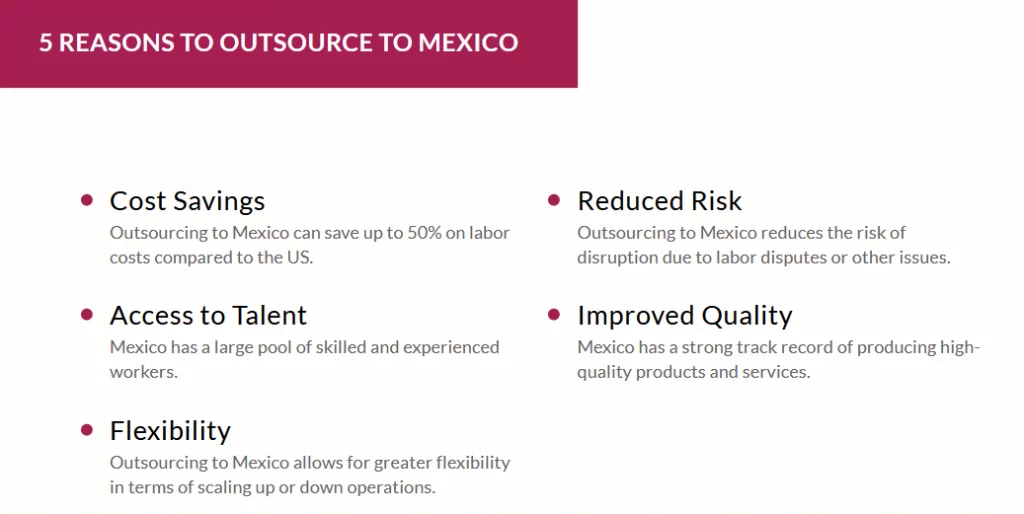 However, many leading American companies like Molex, General Motors, and Medtronic have been outsourcing their software development projects to nearshore locations, including Tijuana, Monterrey, and Guadalajara, because they get access to a large pool of qualified programmers at a lower cost than hiring software developers in their country.
Besides, Mexican developers share similar time zones, cultures, and language, so there are no significant barriers to teamwork and communication.
This guide will discuss the advantages and disadvantages of outsourcing software development to Mexico and how to find trusted nearshore IT partners in this country.
Let's begin with the definition of nearshore software development.
What Is Nearshore Software Development?
As a model of information technology (IT) outsourcing, nearshore software development involves hiring tech talent like programmers and software engineers from countries geographically close and share the same time zones. This model is often more cost-effective than local recruitment, especially in the United States, where labor costs are higher than in Canada and Latin America.
For example, an American company works with a Mexican IT services provider like Intersog and BairesDev to outsource its development tasks to the neighboring country—Mexico. As a result, this company gets its software developed for 20%-30% lower than the average contractor in their country.
Read our rating of top nearshore developers in 2023.
Why Mexico: The Pros of Nearshoring
There are many advantages for a US company to outsource its development projects to Mexico, but the biggest one is cost-efficiency.
The fact that labor costs are significantly lower in Mexico than in the United States and even Canada is a critical decision-making factor, especially since software development projects are expensive.
Plus, as we mentioned before, there are no significant cultural and language barriers to teamwork because:
most Mexican IT specialists speak English and
they have been exposed to US businesses through previous work and education in the IT sector.
Here are a few more reasons why US businesses outsource software development to México:
Mexico is close to the US, which makes it easy to visit clients and teams and make joint decisions about software development.
Mexico has one of Latin America's largest populations, so you will have access to a large pool of experienced, highly-qualified developers and engineers.
It has an active IT community, with students from top universities and software development experts sharing their knowledge through local specialized events and training.
Mexican government backs up the high-tech sector with a focus on service-centric development models, including software as a Service (SaaS), Infrastructure as a Service (IaaS), and Platforms as a Service (PaaS).
The average annual salary of a software engineer in Mexico is $72,450, while in the United States, it is $95,212 (Glassdoor, March 2023). However, CodersLink refers to $51,431 and $110,522 — the average base salary for a senior software developer in Mexico and the US. Based on these comparisons, American companies save 23-53% on their payroll when hiring nearshore developers from Mexico.
The Cons of Mexico's Nearshore Software Outsourcing
Nearshoring software development in Mexico also has its cons, but overall, it is an acceptable option for small and medium-sized businesses looking for cost-effective resources.
Anyways, here are some of the most common obstacles:
While Mexico has solid IT groundwork and Infrastructure, the country still needs to develop its talent, so there is a growing demand for more skilled mid-level professional programmers.
You can't always choose the best development tools or technologies to build your software project. The reason is that some of the most popular technologies are not popular in Mexico. For example, Ruby on Rails (RoR) is a trendy choice for startups in the US, but RoR is not so well known in Mexico.
The response time of your Mexican development team might be slower than you'd like it to be, especially if you are working on a highly-demanding project.
If these disadvantages of nearshore development in México seem minor, let's move on to the next section of this guide: how to find a trusted software outsourcing company in Mexico and start working on your project.
Nearshoring: Mexico versus Canada
While a lot of companies outsource their software development projects to Mexico, there is another exciting destination: Canada.
Consider this scenario: a US-based software development company looking to expand hires nearshore IT talent in either Mexico or Canada. Both destinations look attractive. But which one to choose?
To help you out, here is a brief overview of the differences between nearshore software development in Mexico and Canada:
Canada is a more expensive destination than Mexico, including labor costs, office space, and the general cost of living. Still, Canadian developers' rates are 10-15% lower than those in the United States. Therefore, you can still get a quality, cost-effective development team in Canada.
Speaking of quality, the average Canadian developer is more skilled than their Mexican counterpart. Besides, Canada is a well-developed economy, attracting qualified IT professionals from other countries, including Poland, Ukraine, and India.
In addition, similar to the United States, Canada has a higher level of corporate governance than Mexico.
Canadians are more familiar with American business culture, making communicating with Canadian coworkers easier and improving teamwork between in-house and nearshore development teams.
To summarize, US-based companies can choose from a talent pool of skilled, experienced software developers available in Canada or México. But, of course, both destinations have their benefits and drawbacks, so the decision should go by analyzing the vital economic factors for the company.
In either case, however, nearshoring to these destinations can be a cost-effective way to boost the development process.
How to Find a Trusted Nearshore Developer in Mexico
Suppose you want to outsource your software development project to a Mexican IT company. In that case, you should take a few basic steps to secure the best available team for your business.
Here is a short guide:
Do your research and choose a reputable company with a strong portfolio. Also, check its social accounts (LinkedIn, Facebook) to see what people say about the company.
Search for relevant candidates on reputable directories and aggregators like Clutch, GoodFirms, SelectedFirms, and DesignRush.
If possible, visit the company's office and meet the team in person to see whether you can communicate and work with them effectively.
Only work with freelance developers and marketplaces like UpWork, Freelancer, and TopTal if you want a short-term relationship with a remote technical team.
Once you have a shortlist of potential candidates, compare the candidates' portfolios, asking to see similar previous projects performed by them.
Usually, nearshore software outsourcing companies charge less money than US-based software development agencies. So, if you fail to find a candidate with the perfect portfolio, go for a cheaper option.
Set clear expectations to make the remote development process effective, efficient, and stress-free.
Standardize your requirements and ensure that all team members have a common understanding of what work they need to complete each hour, week, month, and year.
To help you with your choice, we have ranked the ten best IT companies providing nearshore software development services in Mexico and LATAM countries: