A CIO's Guide to IT Outsourcing: Making the Right Decision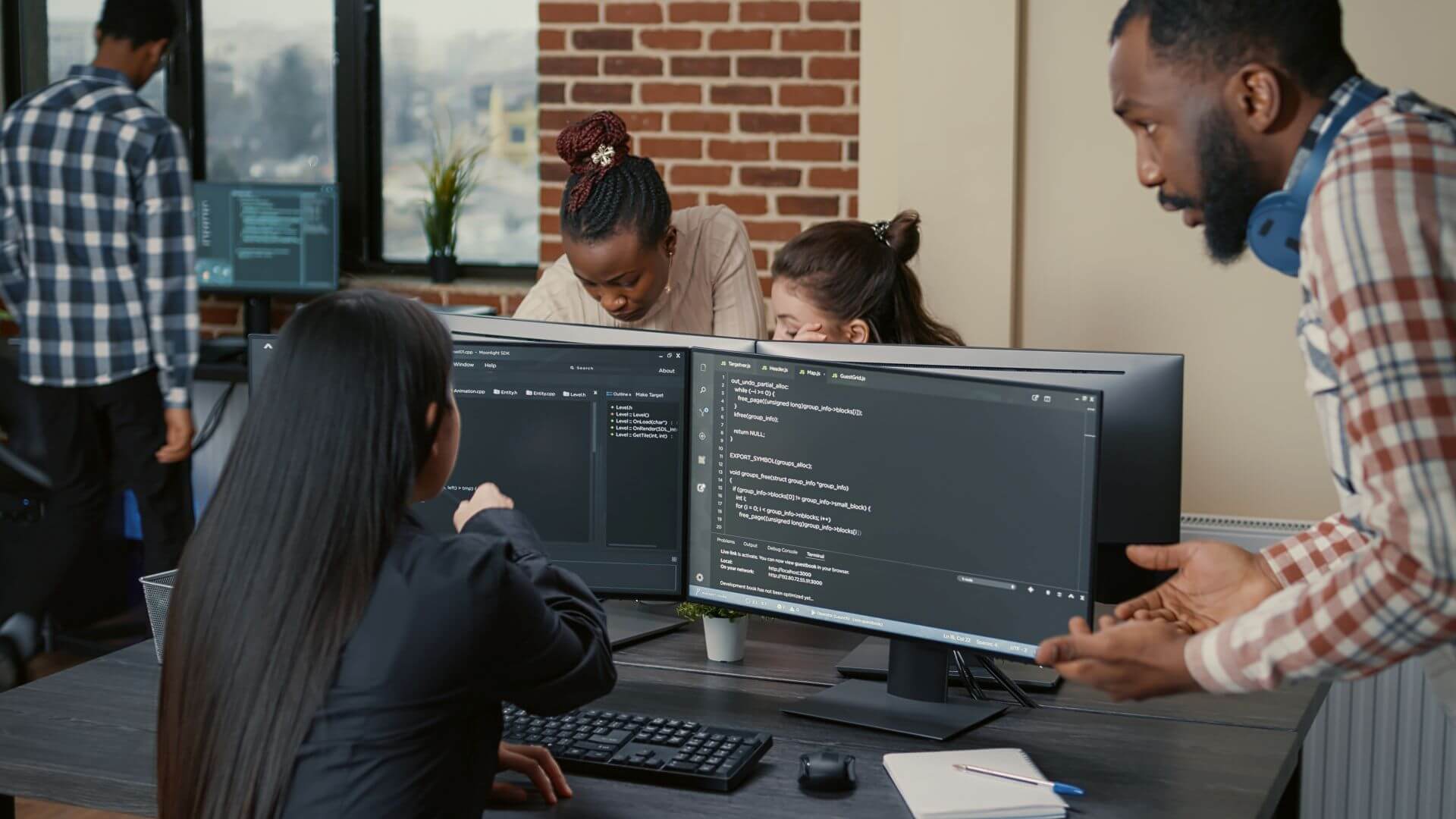 From a CIO perspective, IT outsourcing generally refers to a commercial relationship between two parties, whereby one party, the contractor, provides technology-related services such as software development and managed staffing to another party, the customer or client.
The term 'outsourcing' refers to an instance in which a company decides to transfer certain parts of its IT functions and processes from in-house or on-site resources to third-party companies.
CIOs have a rosy opinion of IT outsourcing. Some think hiring an external company to deliver internal IT tasks will save from headaches like managing developers and overseeing compliance. Others believe that technology outsourcing offers companies a way to save time and money by moving their tech teams and operations offshore or nearshore—to Mexico, for example.
However, the truth is that some risks and opportunities come with IT outsourcing projects. Therefore, the decision-making process on the matter must be made carefully and, ideally, with a good dose of objectivity, based on a comprehensive guide to outsourcing.
This CIO outsourcing guide will give you the facts about IT outsourcing, from its benefits and risks to whether it's the right decision for CIOs. In addition, you will learn about the definition and advantages of IT outsourcing and how to collaborate with technology services providers.
What is IT Outsourcing?
Information technology outsourcing defines offloading some or all IT-related functions and operations, such as DevOps, software engineering, and cloud migration from an organization (the client) to a technology partner (the outsourcer, contractor). It can be conducted for the client to cut costs and improve efficiency through the expertise of the outsourcing partner.
For example, a United States-based company outsources the work of its technical department to an independent IT services provider from Mexico. The company has many consumers in Mexico, and it requires the IT provider to manage its network, customer service, data center, software, and hardware in Mexico.
Therefore, the nearshore team is responsible for maintaining the network and providing technical support to end users in Mexico. The outsourcing partner can be an individual freelancer or a technology services firm.
Types of IT Outsourcing
If you are willing to outsource some or all of your IT staff, you must choose the suitable outsourcing model. There are four types of IT outsourcing that you can choose from:
Staff augmentation. This is a model where you outsource a small team of your employees to the contractor. There will be a manager in-house (like a CTO, IT Director, or System Architect) and a customer representative of the outsourcer (like an account manager, or project manager) who will communicate with both sides.
Dedicated team. This is a cooperation model where you hand over a whole team to the outsourcer. But there will be no in-house manager, just a customer contact at the firm. The contractor will also only be able to hire employees from within for this IT outsourcing project.
Agile team. This is another model for IT outsourcing, where the outsourcer builds a team of in-house developers, and the project manager will work with the client to produce software or manage tech services. The outsourced team works agilely and may stay at the client location or the outsourcing partners' office.
Managed software development. A full-cycle managed IT services model that combines the elements of Staff augmentation and an Agile team, where the contractor builds a team of developers in-house. Still, they work with the client to produce software or deliver an IT project.
Pricing Models
In addition to the four types of IT outsourcing contracts, you need to decide how you want the outsourced team to be compensated. There are two pricing models under an IT outsourcing contract, as follows:
Time-and-materials (T&M). The client pays the contractor for each hour or unit of work (hourly-rate-based contracts), and the contractor estimates the time or units needed to complete their task. This is the most popular IT outsourcing model because it provides more transparency and spending control. The client knows how much they are paying, and the tech company knows how many hours they will be paid.
Fixed-price model. This is a model where the client pays a fixed price for each deliverable. The client, who usually has a better idea of their needs, sets the milestone or delivery date, and the contractor meets that date with all working resources and resources needed to achieve the product or service with no extra cost.
Hybrid. This type of model combines the advantages of time-and-materials contracts and fixed-price models. It means that the client pays only for what is possible to do, not being confined to a fixed budget.
The Advantages and Disadvantages of IT Outsourcing
IT outsourcing provides companies with a number of benefits such as flexibility, quality, cost-effectiveness and scalability. On the other hand, there are a few drawbacks and risks that you should consider before signing an agreement with a technology services partner.
There are some upsides to outsourcing IT services, including:
Cost reduction. Because IT services providers usually have a more advanced infrastructure and more experienced staff, you will be able to get the tasks done for less. For example, a small business in The United Kingdom can outsource their entire IT department to a Ukrainian software development company like Intersog UA for 1/4 of the cost than it would take to run an internal team.
Lower risk. Outsourcing to a technology services provider means that you have a team of highly skilled and experienced professionals who can handle complex projects.
Agility. An experienced IT outsourcing partner will be able to meet your needs more quickly because there are no HR benefits and restrictions that may slow down the hiring process.
Flexibility. This practice allows you to use IT resources that support the platforms and technologies that your organization needs at different times, so you will not have to buy new hardware or software every time you outsource some or all of your IT needs.
Collaboration. Hiring an outside partner will allow you to work remotely with a team of IT experts who can offer guidance, ideas and solutions that your internal staff may not be able to provide.
Adaptability. Instead of having a dedicated team that is difficult to change once they have been hired, outsourcing allows you to have more flexible team, which will be easier to change or adjust when the need arises.
On the other hand, strategic IT outsourcing is not without its own drawbacks. Some people argue that it limits their control over the staff. There are pros and cons to having in-house staff that you know you can always hire and fire, but with an outsourced team you may find that you have less control over their activities because they are not your employees.
So, next about the drawbacks:
Slow response time. Because the contractor has to keep working on other projects and can be located in different time zones, it sometimes means that you will have to wait before getting a response.
Talent retention. When an experienced employee leaves your company and joins a tech partner, they are likely to take their expertise and experience with them instead of sharing it with your internal team.
Loss of knowledge. The company has to start from scratch and training new employees is long and expensive, compared to continuing to work with the same ones.
Loss of control. As mentioned above, you may have less control over the outsourced team compared to your in-house staff.
Unforeseen circumstances. There are always unforeseen circumstances, but it might be difficult to deal with them when you have an outside team that is not part of your organization.
Knowledge transfer. When you outsource, it might be hard to share best practices and know-how with your new project team, which can inhibit the growth of your organization.
Why Do Сompanies Outsource IT Projects?
Nearly 57% of Fortune 500 companies including General Electric, CDW and Science Applications International worked with technology outsourcing vendors to deliver their technology strategies in 2021. With the global IT outsourcing market of 92.5bn USD, the number of the companies that work with tech partners and systems integrators is expected to grow in the next few years, according to Statista. And by 2027 the market is expected to reach USD 610.12 billion, according to GlobeNewsWire.
One of the reasons for outsourcing IT projects is to save money, since it enables the client to avoid paying for tech recruiting, equipment and software. As a result, significant cost savings can be made for companies. The obvious solution is to outsource some or all the IT operations so that the company can focus on its core business. A common goal of many organizations today is to optimize their resources while effectively reducing overhead expenses.
Another reason for companies to pursue IT outsourcing is quality assurance, which would help eliminate long production delays that may lead more expense in purchasing raw components or manufacturing parts.
Here are four main reasons why businesses decide to outsource their information technology projects and functions:
To scale up the existing IT team
To add specific technical skills and talent to the team
To transform the business/department/team digitally
To diversify the risk through IT multi-sourcing
Developing an IT Outsourcing Strategy
Transitioning from an in-house IT department to a centralized outsourcing model requires a company to allocate resources and risk to the outsourcer.
In order to develop a robust outsourcing strategy, an organization must adopt the following approaches:
Reduce the tech debt. You need to identify, understand and improve your technology budget while on a budget, rather than when it is overspent.
Develop a tech staffing plan that identifies the use cases and applications, the costs and revenues, and the staffing needs. This will help you to plan the best approach.
Identify new business opportunities and deliverables that can be outsourced. Once you identify these needs, you can focus on specific outsourcing companies to meet your concrete staffing needs. Some of them may be small vendors which do not have large teams; however, they are very flexible in terms of providing solutions according to your needs and budget.
Review open job tasks and decide which ones can be outsourced, then make a business case for the Outsourcing Initiative.
Decide to embrace the idea of outsourcing digital transformation projects; it will allow you to have effective IT solutions.
How to Start Outsourcing with IT Services Providers
Technology services providers are crucial to the success of many businesses. They can provide an array of services, from system maintenance to full-scale IT outsourcing and management. These third-party service providers can help take the stress away from running your business by providing you with a full range of IT services for a variety of needs.
Before you go after a formal strategy to select, hire and integrate a vendor, make sure that you have gathered the necessary information. Include some of the following quality parameters when measuring success:
The overall cost savings
The impact on the IT budget
The productivity increase
The trick to working with tech partners is developing a solid relationship with them and ensuring that they are true contributors to your business' success. With that being said, there are a few things you can do to ensure that your business has a strong collaboration with technology service providers.
Below are some essential tips that will help you start partnering with IT and software development services vendors:
Establish an open and straightforward communication style. The first step to working effectively with an outsourcing third party is to establish a collaborative working relationship with them. You should be open to their suggestions and willing to discuss any issues that may arise. It is vital that you establish a clear and effective communication style so they can understand your IT project management needs, as well as your business expectations. It usually starts with a clear and consice RFP (Request for proposal).
Make sure the vendor has relevant certifications or experience. You can ensure that the outstaffing vendor has necessary certifications (ISO 27001 for example) and experience by asking to have their qualifications emailed to you. Demand proof of skills and experience by requesting a copy of their background statement, license or certification. This should be integral to your RFP process.
Establish clear goals and expectations from both sides. You need to establish business goals and expectations between the two parties so that you know exactly what the project will look like when it's completed. This will be an essential step in ensuring that the project is a success.
Define and establish timelines for the project. Be clear about the time for the project to be completed so that you can work efficiently and effectively. Also, don't forget to define time frames for the delivery of candidates for open IT positions, as these timelines should be consistent with your project management basics.
Ensure that you are satisfied with the vendor's outsourcing service. You should be sure that the vendor is able to provide the services you need. If not, don't hesitate to ask them to help meet your needs and requirements. If the service does not meet your needs, then it is unsatisfactory and should be renegotiated or changed.
Ensure that the IT vendor can create a positive reputation for your business. It is important to establish a positive reputation for your business and ensure you work with software services vendors who have both industry and technical experience. This will help ensure that the vendor remains stable in the long term, which will give you better value and peace of mind.
Cultural differences between outsourcing vendors and local end-users are, perhaps, one of the most important factors in outsourcing success. To achieve positive results from an outsourcing project there must be a certain level of cultural compatibility between all stakeholders including senior management.
The Main Sections of an IT Outsourcing Service Agreement
An IT Outsourcing Service Agreement is a legal contract between two parties, where the service provider makes technical and management resources available to the client. It is a standard contract document that outlines the roles and responsibilities of both parties throughout an IT outsourcing project.
There are seven main sections of a typical IT outsourcing service agreement, as follows:
Scope Statement. This section specifies the scope of work that will be performed by the service provider. It describes the types of business processes that the service provider will perform and highlights any limitations, restrictions or conditions. This is the most important section in an IT Service Agreement because it describes what the service provider should deliver.
Service Level Agreements. SLA describes several critical business requirements, including performance and recovery requirements, technology requirements and continuity of operations plans. It also includes a detailed description of the communication mechanism between both parties in order to track and report on progress.
Intellectual Property Agreement. The IPA section describes how intellectual property rights from the project will be distributed between both parties. It also includes a non-disclosure agreement (NDA) that prevents either party from sharing confidential information without prior consent of the other party. Any intellectual property like patents, inventions and Industrial design created during the course of the software project are owned by either party.
Fees and Payment. This section explains how much money is expected from the client for project delivery, including taxes, fees and other charges. If the client is expected to pay for project expenses, this section details how much and when payments are expected. Gartner reports that this section should also mention the types of expenses that will be covered by the vendor and whether or not additional resources will be provided to complete the project.
Deliverables. This section defines the quality, features and functionality of the final product. It also includes a list of deliverables that will be created by both parties during the course of the outsourcing project. It specifies performance metrics that should be achieved during the course of the project, such as availability, response time and uptime.
Contract Duration. This section includes a detailed outline of the entire project timeline from start to finish, including milestones and the time period in which each will occur. It also states how often deliverables should be updated and whether or not notices are required for any changes.
Termination and Renewal. This section is only applicable if the contract has a term of more than one year. If the client wants to extend their agreement, they can negotiate specific terms and conditions in this section to maximize their ROI on outsourcing services.
Wrapping Up
The IT outsourcing industry is growing rapidly with many companies making use of outsourced solutions to augment in-house product development resources, or even to replace them altogether. In some cases, IT outsourcing makes perfect sense. However, there are some important things to consider when deciding to outsource your IT needs.
CIO IT outsourcing can be a good idea if it will save you money in the long run. Outsourcing IT services can help you manage your IT budget and help cut down on costs. This is because the relationship between outsourcing providers and their clients is based on professional integrity and trust, which means that the provider will provide high quality services that are cost-effective and of the highest quality.