Virtual Team Management – Top 5 Tips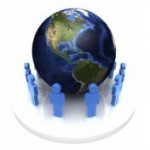 In today's world we must accept that nobody can escape from the reality of virtual team management in projects. The management of virtual project team concepts (when people located at different places work with each other remotely through using a kind of virtual team software) are widely used for better organization of workplaces and planning of project workflows.
Virtual team collaboration tends to be the "number one" aspect of project environments in which employees are enabled to use virtual working tools to perform common tasks, share goals and delegate assignments.
A virtual team member or a "remote worker" is one of the most valued assets of an organization, because by maintaining virtual team building activities that organization is likely to save more money, improve team collaboration, and reduce the probability of project failure. The key benefit of virtual team management to the organization is the ability to cost-effectively engage a variety of skills and talents from various locations.
There are many examples of virtual team definition. In this article we'll use the following definition:
A Virtual Team is a group of people located at different places working on the same project(s) in the role of a project team. Members of the team work primarily from a particular office and never spend their time on travelling between several offices. They are likely to work from home using virtual team collaboration tools to communicate with colleagues and senior management.
Many experienced project managers are likely to have encountered the challenges of virtual team management and development when planning for their projects in which some of project members were remote workers. Is it right to say that those managers can use traditional management methods for collocated teams to successfully drive virtual team building activities? Before answering this question, let's see what challenges a typical remote worker has to deal with and how managers can help this worker to do things better.
In contrast to a collocated team member, the virtual worker is likely to suffer from the feeling of isolation (this challenge becomes much aggressive to the worker if virtual team software isn't properly set up and used), plus the worker has to be self-organized and focus their efforts on the right direction.
For many project managers, the planning and management of virtual team collaboration often seems to be a real challenge because virtual team building activities require a clear understanding of teleworking and communication best practices.
Virtual Team Management is the process of organizing and coordinating the activities of remote workers within and outside an organization in accordance with the organization's policies and requirements. It aims to establish a virtual team in which members achieve desired objectives and contribute to success of assigned projects.
I believe that effective virtual team management depends on several aspects. If a project manager does everything right about virtual team development, then the project is likely to be well performed by a group of remote workers. Here are 5 basic tips on managing virtual team collaboration:
Manage Goals

A project manager needs to set clear and realistic goals for remote workers. Because the workers can't just enter the office to ask questions regarding project goals and physically attend team meetings, the manager should do their best to develop a clear project goal statement and then share this document among remote workers using virtual team software tools. Also project expectations, objectives and other valued information should be published on a website that remote workers can easily access.

Treat for Communications

This virtual team management tip refers to the aspect of project management (PM) time. Team communications take up to 90% of available PM time, and there's actually no difference between a virtual team and a collocated team. Although the project manager should understand the key difference of virtual team communications – there are specific remote communications tools that are to be in place and used to maintain activities for remote team management and development. Those tools are phones, remote video conferencing, and web-based communications. Besides, the manager should treat for the communications between remote team members who speak not same languages, have different cultures and education.

Motivate Remote Workers

As the distance makes the feeling of isolation sharper, remote workers can be poorly motivated to move forward. The project manager should treat for virtual team collaboration that lets keeps remote workers motivated and always in course of work progress. Regular phone calls, web-based meetings and video conferences are very useful ways for achieving close collaboration between virtual team members.

It is also a great idea to create a single virtual work environment in which people can communicate with each other and stay motivated through learning the latest achievements. The manager can discuss issues online, set up virtual team training e-lessons, and provide project updates in real-time mode. Web-based virtual team software will help with motivating remote workers.

Assess Team Effectiveness

Because remote teams often consist of people who work differently and have different work styles, virtual team effectiveness may decrease. It's a task of the project manager to accurately assess each worker's level of willingness for being in the virtual team environment and do assignments. This tip on can be followed by using remote team management software that lets measure team performance and create metrics. The project manager should regularly view performance metrics to ensure better collaboration between remote workers and higher virtual team effectiveness.

Use Virtual Team Software

This summarizes all the listed above virtual team management tips. Virtual team software tools are required for clearly stating project goals, establishing close remote team collaboration, maintaining effective communications, and assessing team performance.
In conclusion, I would say that although virtual team development and planning might seem to be challenging it is the right way for you and your team to make your projects cost-effective and perform tasks on schedule. You will need to use software for virtual team management to establish close collaboration and communications between remote workers. When communications and collaboration work well within your project, then high-performing project teamwork can be achieved.