Steps to Developing a Project Quality Plan Template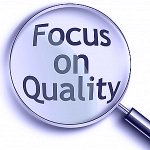 Without appropriate project quality planning it's hard to imagine a successful project that delivers a stated product as per specifications and in compliance with stakeholder requirements. Every project requires effective procedures for project quality planning; otherwise an increased risk of non-compliance may turn the project into a disaster when no product is produced as expected and with the required quality.
Planning for project quality is a complex process that allows companies to clearly set up quality requirements and document all necessary procedures for managing quality expectations. In terms of successful project implementation, developing a quality plan template is a critical activity dedicated to creating a documented set of rules to managing both project and product quality. Without a comprehensive project quality plan it is nearly impossible to implement the project and deliver the product on time, under budget and as per stakeholder requirements.
The "Project Quality Planning" section of the Project Implementation Guide is dedicated to providing an overview of the process for planning project quality and describing key steps to developing a project quality plan template.
What is Project Quality Planning?
Project Quality Planning is a process for identifying quality standards and requirements for the overall project as well as its final product, and for keeping records on how the project fits into the planned quality expectations and levels.
Project quality planning is one of the key components of strategic project quality management. It's the starting point for creating a link between stakeholder expectations and product requirements. The process for planning project quality should be performed in line with the change management process, because in case of any changes applied to identified quality standards and requirements appropriate modifications should be added to a project quality plan template.
There are several inputs for running the project quality planning process. These are the scope statement, stakeholder requirements, a list of identified and described risks (so called "risk register") and the implementation schedule. By using all this input information the project manager in cooperation with the quality team should develop a project quality plan template for verification.
Developing a Project Quality Plan Template
Although each particular methodology offers specific activities and requirements to developing a project quality plan template, we will try to use a common approach and show you general steps of the development process. Please note that our Project Implementation Guide is designed for planning and managing various kinds of projects; the same is for developing a project quality plan template. Hopefully the steps below will be helpful for you.
Step #1: Gather Input Data.
As it's been already said, for developing a project quality plan template it's required to gather input information, including the scope statement, stakeholder requirements, the risk register, and the project implementation schedule. The quality management team, under supervision of the project manager, needs to request all the necessary information and collect requirements to the product.
Project Scope. The statement of project scope is used to define the boundaries, deliverables and assumptions of the project.
Product Scope. The statement of product scope is based on stakeholder requirements that identify the characteristics (features and functions) of the product/service. It is used to create quality metrics.
Risks. The risk register is used as a tool for managing changes that may be necessary for applying in quality standards and/or requirements.
Time. The implementation schedule helps define the timeframes for planning project quality procedures.
Step #2: Analyze Data.
As soon as the input information is received by the project quality planning team, the next step is to conduct cost-benefit analysis. This analysis will help review all the costs occurred in the project and all the benefits stated during Project Setup Phase. The team in cooperation with the project manager needs to develop quality planning activities intended for meeting quality requirements within the planned costs and the stated benefits. The cost of each quality planning activity should be compared against the expected benefit.
Step #3: Set Quality Metrics.
Once project quality planning activities have been developed and approved by the project manager, the next step is to establish quality metrics. The team needs to select specific product attributes and define how to control these attributes during the project implementation process. Quality metrics will be used later in quality assurance and quality control activities.
Step #4: Perform Quality Assurance and Control.
There are two critical processes within project quality management. These are quality assurance and quality control. The quality planning team can use checklists and templates to ensure consistency in quality metrics and to take control over expected quality performance.
Step #5: Design Improvement Plan.
The final step in developing a project quality plan template is about making an improvement plan that details actions for analyzing quality performance and identifying activities for enhancing project/product value. Such a plan usually includes steps and reasons for applying changes to project boundaries, product configuration, process metrics, or/and project objectives as well. This document should be approved the project manager.
Conclusion
The project quality planning process is critical to success of project implementation. It's about creating a foundation for setting up quality requirements and identifying quality procedures. The process results in developing a project quality plan template. Such a plan can be designed in 5 steps. The project quality planning process should be performed in line with other planning processes, because otherwise the project is likely to fail with producing a product that fits into stakeholder expectations and requirements.