Several Tips on Building and Organizing a Team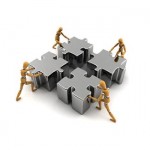 Team building is neither just a single event nor an activity that can be undertaken by someone outside the team. Building and organizing a team is a complex of tasks and actions which a team leader needs to step through in order to do select candidates for the team, define objectives and commitment, establish teamwork, overcome issue, and solve team building problems.
There are several basic tips and suggestions that every team leader or group manager needs to know when making decisions on any organizational activities. The tips and suggestions are listed below:
Set shared goals to commit team members to making collaborative effort
Create a list of tasks that the team will do to reach shared goals
Define the barriers that inhibit team members from achieving shared goals and making collaborative effort
Use project tasks and processes in the right sequence
Let's review each of the suggestions in detail.
Shared Goals and Commitment
The foundation for motivational activities is a commitment to reaching shared goals. Having such a commitment ensures that each member of the team has an impact to teamwork and its results. Without shared commitments, the team leader has a limited impact to teamwork, and each member cannot be guided on the right direction. Therefore, before applying team building activities the leader needs to look at relationships in the group, understand competencies and skills of every member, assess performance, and then define commitments with reference to shared goals.
Task List and Teamwork
Once shared goals have been identified and commitment has been set, the next team building idea is to think of tasks and jobs the team must perform in order to reach the goal. The leader should state teamwork by creating and assigning lists of tasks with exact durations. Each member will be assigned to personal and shared tasks and collaborate with colleagues to complete shared goals. The group leader does not need to make estimations and forecasts but define the status of teamwork and how it can be accelerated.
Barriers
While performing tasks and jobs the team faces various barriers and issues that require competent and effective solutions. The leader must be ready to undertake reactive decision making and problem solving in order to detect issues, take quick decisions, and apply respective solutions. For better problem solving, this person needs to ensure that communications between team members work excellent. Often managers neglect communications, and that attitude becomes destructive for teams. No matter whether a group is large or rather small, the leader should establish good communications. Then the team can better collaborate.
Proper Sequence
The final tip refers to the need for going through all the steps in a proper sequence. The process of team building is a set of subsidiary processes which are to be carried out in stick order. Therefore, the leader should interview candidates, then assemble the team, set shared goals, create task lists, etc. If this sequence is broken, effective team building and organization will not be achieved.