Procurement Team – Definition and Responsibilities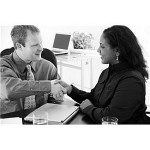 Right definition and understanding of procurement teams and their responsibilities is vital to project managers who want to provide their projects with necessary items. The definition of procurement team needs to be described in order to help people involved in supply chain management to build a liaison between contractors and customers.
So In this article definition of procurement management team is described. Here I also outline the major responsibilities of procurement teams.
Definition
Procurement Team is a group of experts who provide a wide range of services to all project participants involved or interested in the activities relating to the purchasing of materials and supplies required for project implementation.
The team negotiates with private/government contractors regarding prices and delivery terms on the one hand, and communicates with the project management team regarding necessary procurement items, technical specifications and requirements from the another hand.
Procurement team treats for the major activities of chain management including logistics and contract management. It makes sure that the activities are carried out in line with current legislation and existing requirements of the project. Procurement team also ensures compliance with purchasing best practices and existing business policies and procedures.
Responsibilities
For convenience, all the responsibilities of procurement team can be classified into two conditional sets – Description and Value.
Description
The first set of procurement responsibilities includes duties relating to treating proper descriptions and ordering of goods and services to be procured within the project. It aims to ensure that the contractor receives right specifications and delivers the items in accordance with the approved delivery schedule.
Value
The second set of procurement responsibilities covers duties relating to making payments for the orders. As a rule, the team has to cooperate with accountant division and project manager to agree on payment issues, allocate necessary funds and ensure compliance with project cost requirements.
Note that these two sets of procurement management team responsibilities are conditional. They are common for various projects yet can vary from project to project.
A more detailed review of procurement team responsibilities is as follows:
1. Strategic Compliance
The team is responsible for maintaining a strategic overview of project procurement management activities and ensuring that purchasing contracts and arrangements are fulfilled in strict accordance with legal requirements, project requirements, and business policies and procedures
2. Expert Advise
The team is committed to providing expert advice and supporting procurement definition best practices regarding all aspects of existing business policies and contract management procedures, including orders and deliveries, financial regulations, quality requirements, other concerns. It should also negotiate purchasing contract terms (pricing, delivery, specification) and win best procurement tenders.
3. Strategy Development
In conjunction with the project manager, the team needs to develop a project procurement strategy, by preparing procurement tender documentation which including best practices of procurement contractor management, service requirements and customer expectations.
4. Contractor Selection
The team takes responsibility for developing the approved list of procurement contractors (private or government) and building a contact point and communication link for the project manager, the senior management team, the sponsor, and rest of the stakeholders.
5. Training and Consulting
The team is committed to providing advice on procurement issues and risks and to identifying any procedures necessary for risk treatment, problem solving and change management. It usually provides procurement definition training and consulting.