The Project Manager's Top Five Sins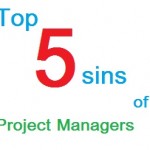 If a project fails, then most likely the reason for this is an incapable PM (Project Manager). That's almost an axiom. Because project managers take the ultimate responsibility for delivering their projects on time, within budget and according to expectations of the stakeholders, they need to be well-trained, have necessary skills and be responsive to the changing environment.
Meanwhile, there are several sins or mistakes that many project managers face when planning and implementing their projects. Let's view the project manager's top five sins and also talk about ways to avoid inefficiency in managing projects. In this article we make a list of the project manager's top five sins and the most frequent mistakes. We hope such a list will help you better understand how to avoid inefficiency in managing projects and become a better decision maker within your business projects.
Sin # 1: Lack of Smooth Communication
When there is imbalance in team communications project participants can't smoothly communicate with each other and efficiently exchange project information. Poor communication reduces the chance of project success, leaves everyone involved in the project in the dark and disallows project teams to collaborate with each other.
As a good project manager, you must avoid inefficiency in managing projects by establish robust and smooth communication channels between teams, stakeholders (customer and sponsor) and senior management in order to ensure close collaboration, productive cooperation and instant information exchange. At the project initiation phase, you must develop a project communication strategy and specify steps to building balanced and smooth communication channels.
Sin #2: Having Narrowed Vision on the Project
Effective project management requires decision makers to have a big picture view on the project and also be able to focus on details when needed and quickly react to any changes. By developing these abilities they can work with the stakeholders and teams and efficiently switch between different angles of view. But when the project has narrowed vision on the project he or she is unable to adequately analyze current situation within the project and make efficient decisions on improvements.
As a PMP you focus on individual and separate "snippets" of the project implementation process as well as to get a big picture view of the overall work progress. This will help you be adequate in decision-making and avoid inefficiency in managing projects.
Sin #3: Ignoring Conflict and Misunderstanding
Misunderstandings and interpersonal conflicts in teams and groups are quite nature to any project environment. We all are people so we make mistakes and sometimes get in conflicts to protect our interests. A good project manager always understands this. However, some PMs do not pay much attention to team conflicts and even neglect using conflict management methods (like Forcing, Accommodating, Compromising, Collaborating, Avoiding) in team building.
As a result their teams cannot efficiently work together and collaborate so their projects get more "chances" for failure. That's why to avoid inefficiency in managing projects you should do your best to prevent and resolve team conflicts. Be ready to develop your interpersonal skills and learn some practices of successful conflict management.
Sin#4: Neglecting Risk Management
There is no project that does not get into risk during the implementation. Successful PM practice requires developing and implementing risk management mitigation strategies that allow identifying, analyzing and evaluating uncertainties and threats surrounding the project. Unfortunately not all projects are implemented under risk management strategies.
Some PMPs just neglect risk management and try to do their projects while forgetting about or just jettisoning risks that may cause project failure. You should avoid repeating this sin. At the project planning phase, you should be ready to make a risk management plan and outline strategies for eliminating or mitigating all possible risks identified.
Sin #5: Inefficient Assumptions Management
Because projects posses uncertainty, good project managers have to make assumptions that help reduce this uncertainty. Bad project managers never do this; they just their projects and that's the sin. They do not pay attention to making assumptions.
As a great project manager you must avoid inefficiency in managing business projects, by making your assumptions at the planning phase, and then sharing them with stakeholders and planners to get approval.