Project Task Management – Definition and Software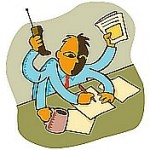 Definition
Project task management (PTM) refers to a set of carefully planned activities to create, plan, perform, control, track and report tasks, which are components of some project. This project cannot be completed and closed without completion of the tasks. PTM allows creating the foundation for effective task management within a project management environment.
Project task management is an effort to accomplish project tasks and jobs on time, within budget and as per specification. It is a combination of actions that a project manager undertakes to acquire, develop, motivate, control and lead the team (learn more this topic by reading the PM Guidelines).
PTM can be successfully implemented as a technique in various organizations. Most possibly, it will be used in IT companies; however, other companies (including trading companies, real estate agencies, recruiting agencies, law firms, etc.) can enjoy PTM as well. Actually, project task management tools can be used in any organization that focuses on task-oriented activities and projects. And the implementation is successfully achieved by using special software solutions, the so-called "project task management software", or "project task software".
Software
It is obvious that a project manager cannot manage tasks within a project and teams without a software solution. Project task management software helps the manager create a single environment in which information can be shared between members of the team, group decisions can be taken in collaboration, communication channels between the team and the stakeholders can be established, project changes and risks can be managed, project costs can be estimated and budget can be allocated, and project performance can be assessed. PTM software allows planning and performing tasks according to the stages of project life-cycle (Initiation, Planning, Executing, Controlling & Monitoring, Reporting and Closing).
Today in the software market you can find a great variety of PTM software solutions for single- and multi-user. For example, Microsoft Corporation offers powerful solutions like MS Project and MS Outlook. Microsoft solutions can be used to manage projects through developing to-do lists, schedules, calendars, timelines, charts and diagrams, spreadsheets, reports, summaries, templates, etc. MS solutions are widely used in different kinds of organization, and this situation proves the effectiveness of those solutions.
Another example of project task management software is VIP Task Manager. Although the Microsoft Corporation seems to dominate in the market, it does not mean that alternative solutions are not as efficient as MS solutions. And this fact is proved by the PTM software VIP Task Manager. This solution features powerful tools to plan and do tasks (Task List), develop and manage projects and tree-like hierarchies (Task Tree), schedule activities (Calendar), and manage project teams (Resource List).