Working Remotely: Pros and Cons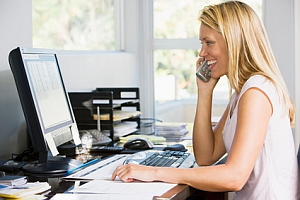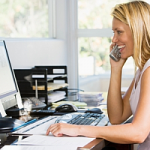 Technology has redefined how people do their jobs. Working from home and remote locations is a growing trend. Many people have successfully transitioned from a traditional to virtual office. The ability to work remotely produces different effects on how business gets done.
Modern technology has changed how most companies operate and communicate. It allows businesses to expand operations from a limited geographic region to anywhere in the world. Like any other business tool, working remotely offers distinct advantages and disadvantages.
Advantages
Better Communication
People who work in a virtual office make more effective use of key communication tools to get the job done. Because all of their team members are not in one location, they utilize video conferencing, email, text messaging and phone calls from a cell phone headset to ensure everyone is on the same page. They become proficient in using several methods of communication and it helps them be more effective in filling their role in the company.
Increased Efficiency
Geographic separation means eliminating time wasting practices when gathering remote employees and leaders together for a video conference or meeting. It is easier to eliminate distractions and maximize time spent in meetings if certain team members are working from a remote location. Leaders use the opportunity to answer questions and clarify everyone's role on current and future projects. Productivity can increase as a result.
More Interaction with Leaders
Team leaders and managers tend to make a stronger effort to keep in contact with remote workers under their supervision. They are not complacent about contact and communication. Taking time to stay in contact lets them address a specific employee's needs and ensure the entire team is on the same page. It also lets them develop a regular channel of communication with that employee.
Disadvantages
Technological Glitches
Modern technology, with all of its conveniences, is far from perfect. Video conferencing, cell phone use, live chats, email messages and text messages can be frustrating due to common malfunctions, glitches and connectivity problems. Technological devices are also vulnerable to security breaches and can cause important communication to fall into the wrong hands. This can cause serious legal liabilities if sensitive company or employee information is compromised.
Employee Training Difficulties
Helping mature employees and management adapt to using new and unfamiliar technology can be difficult. Businesses are often required to devote significant amounts of time and resources to training in the use of technologies just to allow work to be performed remotely. It can lead to major turnover if a company needs to bring in employees and management who are easier to train in use of new communication technologies.
Impersonal Touch
There is value in speaking face-to-face for supervisor and employee alike. Communicating only through e-mail and text messages, for example, can lead to confusion and misunderstanding. This can become a hindrance to productivity because further clarification and communication is required. Meeting face-to-face can allow for immediate questions and answers.
It can also become a barrier if a business relies solely on electronic communication with clients. Customers may become frustrated at their inability to talk with an actual person. Working remotely is simply one tool a business can use to be successful, but should not serve as the only solution. You should weigh these when deciding what approach makes sense and is more efficient for your business model.