Top Ten Small Business Mistakes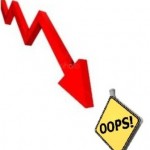 In context of the best management practices, examining the most frequent small business mistakes is one of the prioritized activities an entrepreneur needs to undertake when planning for a small business start-up. People who tried to start a business but failed can tell you about a lot of reasons for small business failures. Those people can explain why their business initiatives have failed. And if you decide to start your own business, your role will be to learn their experience, investigate the most frequent mistakes, and then try your best to avoid those mistakes and errors. In this article we'll talk about the top ten small business mistakes that many individuals make when planning for business startup. I hope this short post will help you better understand the "bad" steps of business planning, so your small company will never be one of those outsiders.
Top Ten Small Business Mistakes
Improper Business Idea Selection

Any business starts up with some idea. If you choose wrong business idea, then you'll never begin an efficient business. Adequate idea selection requires you to make a list of possible business ideas and then conduct an analysis to investigate the most feasible and sustainable one (in terms of resources available and benefits expected). Remember that inadequate idea selection will significantly increase the business failure rate and reduce your chance to succeed.

Lack of Experience and Knowledge

Perhaps, you're new to small business planning, so it's quite natural that you don't have any experience in managing business start-ups. Actually experience is useful yet unnecessary for better small business planning. But knowledge is strongly required! Having adequate business planning knowledge will help you avoid most mistakes and minimize the business failure rate.

Beginning Activities without Adequate Plans

Small business panning requires developing action plans that guide you through the implementation of your idea. But unfortunately not all people understand the importance of business plan development. So it's a frequent mistake to take a business initiative without having got a clear-cut plan of action. To avoid small business failures from the outset, you'll need to specify a business plan template and focus on key activities and tasks. Also learning typical reasons for small business failure will help you create a business plan that aims at specific goals and objectives.

Bad Marketing and Sales

Having no adequate knowledge in planning marketing campaigns and selling activities is the next reason for small business failure. If in your business plan template you haven't included a section for implementing marketing and sales, then you won't have an action plan for conducting marketing projects and doing sales tasks. And that will be your business mistake and the reason for business failure. For some great ideas on how to market your business, check out a good promotional products blog to hone your knowledge. Take your time to develop a marketing and sale plan within your general plan and then specify tasks on how you're going to implement the strategy for marketing and sales activities.

Using Out-of-date Information

It's a top small business mistake to develop a business plan using out-of-date data. Because the business environment dynamically changes and new challenges appear, you need to be ready to make your small business plan progressively updating. Just keep track of the latest changes in the market, examine business failure statistics, analyze competitors, and investigate the target audience. All this will help you avoid further mistakes and reduce the rate of business failure.

Inadequate Cash-Flow Management

This mistake causes small business failures if you try to run your business start-up out of money. Cash-flow management is an important process within financial management that requires planning for budgets, developing cost estimates, using spreadsheets, and tracking changes to financial statements. You'll need to use finance management software to plan, manage and track your finances. Such software will help you avoid the cause of small business failures.

Wrong Location

Inadequately locating a business will be the next reason for business failure. When you try to start up a business in the wrong location, you're likely to fail because there could be no targeted customers, be high competition, lack of suppliers, impossibility to grow and expand, etc. To avoid making this small business mistake, you will need to include a section ("Business Location") in your business plan template and carefully think of the place where your company will be competitive and successful.

Inadequate Document Management

Although today many companies tend to get "green" and avoid using paper-based documents, it's really hard to do a business without papers. Meanwhile, electronic documents and templates also require being properly managed. I suggest you develop a "green-based" business plan but also use document management software that helps utilize Internet for making bargains online, managing flows of electronic documentation, and protecting your electronic records. Such software will let you avoid this small business mistake.

Lack of Partners

For development and growth, some small companies require establishing a winning partnership with other businesses. Perhapsб you'll also make a decision on this point. Also there could be an objective necessity for partnerships. Anyway, business partnership is worth your considerations, so think twice before making the final decision. And who knows, Perhaps future partners will help you avoid many causes of small business failure.

Lack of Adequate Testing

This small business failure mistake refers to rashness and impulsiveness. Even having got a business pan template in place you can't just go and start your business without adequate testing. This means you need to make sure the business is ready before the launch. Business modelling and testing are features of powerful business management software that helps you view your business in practice through using interactive models and testing samples. Use Internet to find such software.
Article Summary
So we've listed the top ten small business mistakes that often cause the increase in the business failure rate. I hope that after reading this article you've known a lot of interesting and useful information about the key reasons of small business failure, so now you know how to keep your business start-up succeeding.