Project Governance Roles and Responsibilities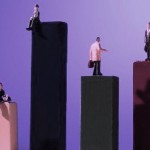 Project governance roles are tools of the governance mechanism to ensure compliance with the implementation standards. The mechanism cannot be effective if there are no relationships between groups involved in the project. Roles of the project governance framework can be presented as a chart. Below in the picture, there are listed three project governance roles:
Executive Sponsor(s)
Steering Committee
Project Manager/Director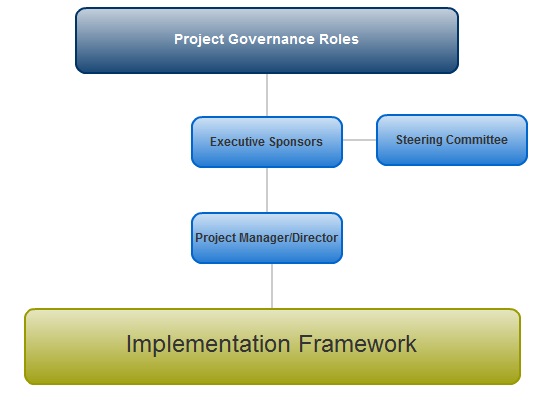 Executive Sponsor(s)
Typically, in any project there is a need for one or more executive sponsors who ensure that the implementation process is carried out appropriately and every individual involved in the process makes a necessary contribution to the overall project delivery and completion.
The executive sponsor takes the primary responsibility for achieving the project's planned outcomes and objectives identified at the Project Setup phase. This person directs the process and makes oversight in order to ensure the project's successful delivery.
During the implementation process, the executive sponsor has an assigned project governance role that entails the following responsibilities:
Maintain project performance and provide support for the project team.
Align team leaders and project managers around the change and manage resistance.
Stay engaged with the team and provide awareness with employees of the project drivers.
Keep track of project funds and make decision on financing.
Steering Committee
Typically, complex and large project initiatives focus on more than one segments, and multiple segments are usually linked to different (but dependent) results and outcomes within the context of the overall project implementation objectives and direction.
For successful implementation, such initiatives require a flexible project governance role that provides each of the segments with separate authorities. All segment representatives will deal with each other to make collaborative decisions, adjust the overall project direction and manage resources. All this can be dome by establishing a steering committee.
A typical steering committee consists of:
Executive sponsor(s), who deal with each other to reach consensus on issues, changes and adjustments.
Senior managers, who act as those segment representative responsible for some aspect of the defined outcomes.
Analysts, who monitor project progress, view feedback, assess potential impact within each specific segment and make suggestions on improvements.
Project Manager/Director
A project manager or director is a person who takes the project governance role for setting and managing project work and monitoring project progress. Managers and directors must ensure that their projects sustain a connection to the implementation methodology and the overall objectives.
A classic project manager is responsible for the following tasks:
Plan, organize, coordinate and control the project effort.
Communicate with and direct team leaders for achieving the defined outcomes aligned with the project objectives. In smaller project initiatives, the project manager directly works with the team.
Ensure on-time delivery of specific products.
Set up and manage tasks and activities within the project plan framework.