Procurement Team – Structure and Roles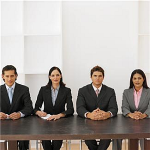 In the previous post, the definition and key responsibilities of a procurement [management] team have been given and outlined. The following article will tell you what key factors should be considered when deciding on the roles and structure of your procurement group. It also outlines names of the group roles and duties of each of the roles.
Definition
A procurement team structure refers to a composition of roles, duties and responsibilities of the team members. It identifies the key positions that provide successful purchasing management process.
The structure of a procurement group will generally depend on several key factors around an enterprise that is going to order procurement items for a project. These factors are:
Size of enterprise. If a company is large, this often means that the enterprise has a number of departments (Marketing & Sales, Purchasing, Accounts, etc.), relationships between the departments are well developed, a lot of employees are involved in the departments' activities, much money are spent, and greater profits are received.

Usually such an enterprise is involved in a number of projects and related activities, both short-term and long-term, so it needs to have a robust team of professionals who could state business/project procurement and purchasing activities.

To build and manage such a team, that enterprise will need to organize a procurement (purchasing) division in its organizational structure. The procurement division will consist of economists, analysts, and other specialists who can manage and follow procurement best practices.

Scope of project. When a project is initiated, the project manager and other authorized stakeholders develop a scope for the project. A scope involves identification of the logical boundaries to which the project is planned to be extended. The project scope is identified in the context of two key constraints, such as time and cost.

If procurement items required for the project are delivered out of schedule and/or out of the available budget, the project is likely to fail, or at least not to meet expectations of the stakeholders. And proper ordering and delivery of those items will depend on how an assigned purchasing group works around procurement activities.If the project scope is rather large, then more items are required for delivering and more aspects of procurement management are needed to be considered, so the purchasing group should have a sufficient quantity of qualified members who could make their best to manage strategic procurement processes and services.
Roles
In a procurement management team, there can be five possible roles:
Buyer. "Procuring" Buyer is a person who selects a suitable vendor and issues purchasing orders. Buyer prepares a list of potential vendors (the buyer's list) to be submitted to Manager for approval. The buyer's list is critical to identification of the key procurement policies and strategies that state procurement procedures and activities.
Procuring Officer. This role is assigned to a person who directly communicates and negotiates with vendors. The person is responsible for sending the request for proposals (RFPs) to the approved vendors from the buyer's list. Often Officer shares duties of Buyer and submits the buyer's list for approval. Purchasing Officer may act on behalf of Buyer when submitting purchasing orders to approved vendors.
Manager. It is a role of taking supervisory and managerial responsibilities. Procurement Manager leads the work of the purchasing division, including tasks and activities of Purchasing Officer and Buyer. Manager has authorities to make decisions concerning operational activity; however, he or she must communicate with Director to get the strategic, long-term direction of procuring activities (including government activities). Manager closely works with the project manager, and in collaboration both managers decide on specifications and technical requirements of procurement items required for accomplishing the project.
Director. Purchasing Director is a person who defines the long-term direction of strategic procurement processesand services for the procurement department and is involved in high-value contract negotiations. Procurement director is responsible for negotiating with the government and bidding on government/business contracts.On behalf of the departmentб this person can participate in official federal bids and tenders by registering in e-procurement systems through the Web. The Director role takes special importance when a project requires concluding of international procurement contracts and agreements.
Analyst. Purchasing analysis is a person who cares for informing upper management of purchasing process status and progress by submitting procurement reports.  Purchasing analysis is responsible for tracking spending activity against contracts and non-contracted spending and ensuring procurement best practices and policy compliance.