Business Risk Mitigation, or How Good Leaders Respond to Business Crisis Situations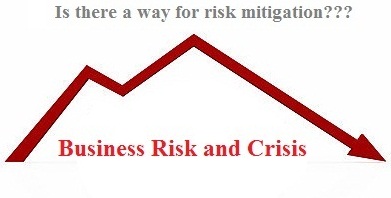 Business risk mitigation is one of the most prioritized tasks of good leaders and managers who tend towards reaching the best management practices. While an ability to efficiently respond to business crisis situations is critical for planning the mitigation of business risks and uncertainties, there are other driving forces that should be taken into account by crisis managers and executives when developing a business risk mitigation strategy.
It is about taking a number of necessary steps for identifying potential threats, preventing risk occurrence and mitigating the negative effect of business crisis situations. In this article, we will focus on several steps a good leader needs to take to complete the task of business risk mitigation and pave the way for the best management practices.
Steps to Responding to Business Crisis Situations
Below I give a small checklist of steps for responding to business crisis situations. The checklist doesn't focus you on specific methods of crisis and risk management (this will be the case of next articles) but it is about the first steps to be taken by executives once a crisis situation happens.
Don't create panic but take a moment and figure out the situation

First you need to remember that even the worst disruption in business service to your company isn't worth of your nerves. Once a bad situation has happened, you must keep your mind sober and start investigating the situation. The best way to do it is through organizing a meeting with your team. But note that business crisis situations usually cause panic so your team might be stressed out and not able to make rational decisions.

That's why you must schedule two meetings: the first one will be aimed at getting the people together and allowing them to express their frustration and other emotions. The first meeting will create uproar but no decision will be made. During the second meeting, the team will be ready to stay sober and discuss ways of business risk mitigation.

Be quick but don't hurry

A crisis situation makes your business suffer from an injury, so to avoid a worse scenario you should act promptly but at the same time be careful and avoid doing any hurried steps. Otherwise you're likely to make some critical mistakes and let the situation get your business down.

As a good leader, you should respond to business crisis situations by providing a major direction towards business risk mitigation in a timely fashion. During the second meeting with the team you should discuss the direction and set specific time-frames for the implementation. To reach the best management practices you need to be quick but not hurried.

Set success criteria for managing expectations

Once the major direction or strategy of business risk mitigation is determined and due dates are set, the next step is to manage expectations of your effort to respond to business crisis situations. If you don't take this step, you're likely to fail soon because there'll be no success criteria for measuring your mitigation strategy.

Therefore, your key task is to develop a set of success criteria and link your expectations to these criteria. During the implementation of the strategy for mitigation of business risks and crisis, you will regularly (daily or weekly) put actual results against the criteria – this will help you reveal any gaps that reduce performance and then generate solutions through organizing discussions with your team.

Take control of the crisis situation

As a good leader, you must always keep the business risk mitigation strategy under control. While you're unable to control the disaster, you can demonstrate control of the strategy and generate efficient responses.

When your team sees your effort they are likely to look at the situation more enthusiastically and be more encouraged in achieving the best business management practices. You can use risk management software to control business risks and crisis.

Be flexible to adapt to changes

The crisis situation your business got into may change and the changes will reduce success of your business risk mitigation strategy. If you don't manage the changes you are likely to fail very soon. As a good leader you must respond to business crisis situations but also keep track of any new changes occurred in the situation.
Change management will help you stay current with the situation, receive new information, make necessary amendments to the business crisis mitigation strategy and get advice from the front-line experts.
Summary
During any business crisis situations a good leader must provide perspective and convince the team of the successful outcome. The given above checklist has demonstrated you 5 steps for responding to business crisis situations. It will be helpful for risk managers, team leaders, executives and project managers. The checklist is designed in line with the best management practices.