Project Governance Structure: the Steering Committee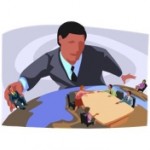 Without a flexible project governance structure most projects are likely to fail with achieving a successful outcome. A governance structure is the framework for resolving issues and managing problems that arise during the project life cycle, and for considering recommendations on planning project deliverables. The Steering Committee is an element of the structure. In this article we will review what a governance structure means and what the Steering Committee is.
Project Governance Structure
The term "project governance structure" is used to describe a framework for governing a project. The project governance structure is the project management framework that includes a number of committees and their roles with agreed responsibilities and decision-making rules.
Any changes made to a project's scope, schedules, Project Charter Template, or budget need to be documented and presented to the bodies of the project governance structure. The Project Steering Committee is one of the bodies that play an important role in planning and directing the project. Without the Committee, the project governance structure becomes inefficient and the project suffers from scope creeps, poorly-defined deliverables, insufficient budget and time overruns.
The Project Steering Committee is a decision-making body within the project governance structure that consists of top managers and decision makers who provide, review and monitor strategic direction and policy guidance to the project team and other stakeholders. The committee also provides recommendations on project approaches and participates in discussing general strategies and opportunities for project planning and implementation.
Typically senior management, key stakeholders and high-level permanent representatives of project clients are members of the Project Steering Committee. Within the project governance structure, the members of the Committee are strategically positioned to effectively promote the goals of their respective organizations. Diversity will usually make the Steering Committee flexible and improve decision making.
Roles of the Steering Committee
In a sample project governance structure, the Project Steering Committee consists of a group of the key stakeholders (senior managers and client representatives). The committee can be assigned to the following roles:
Checking and approving the Project Charter for accuracy and compliance with the Business Case.
Monitoring progress against the project management plan.
Reviewing and verifying changes made to the Business Case.
Reviewing and approving changes made to project resource plan, schedules, scope, goals, cost estimates, etc.
Making strategic decisions regarding the prioritization of project deliverables and approving interim deliverables.
Reviewing and approving the project development strategy.
Reviewing and suggesting solutions for the issues critical to project success.
Resolving conflicts between stakeholder groups