Electrical Contract Writing Tips for Construction and Engineering Businesses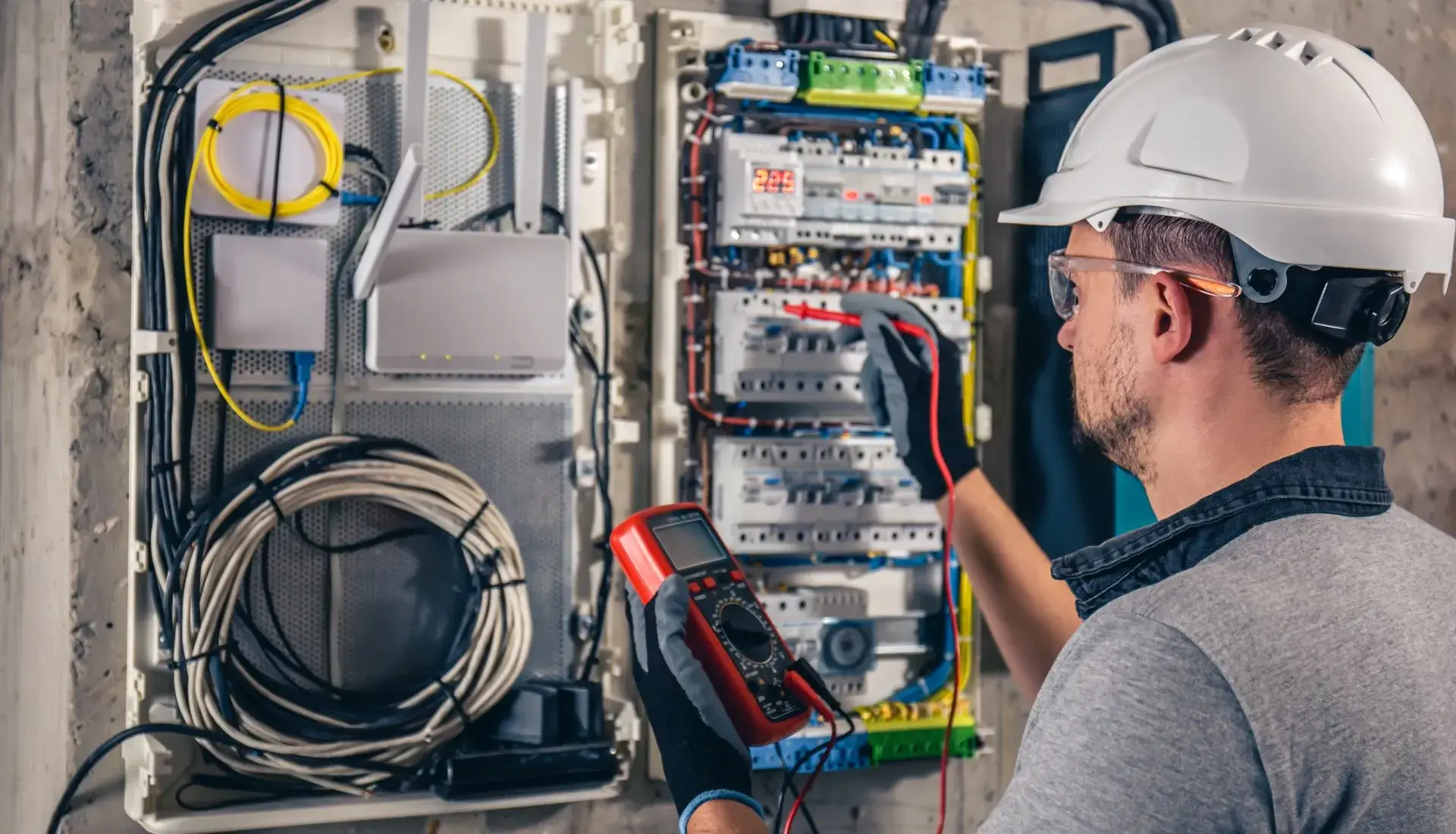 If you own an aspiring electrical engineering or construction business, one of the first things you should consider is how to write an electrical contract. Simply put, this legal document will help protect your work and professional reputation by ensuring both parties—you and your client—understand the expectations and conditions of an electrical project before you begin.
So instead of waiting for a client to come to you with a contract draft in hand, learn how to work proactively to create a detailed and practical electrical service agreement. This document will give you the upper hand when a potential customer wants to hire your business for an electrical project and will show that you care about the quality of work.
Let's begin with defining a legally binding electrician contract in the engineering and construction project management.
What Is an Electrical Contract?
A written contract is a must-have for any construction or engineering business, but it is imperative if you work independently as a certified electrical engineer. Clients will want to know precisely what they are paying for, what they can expect, and when.
A standard electrical contract is a legally binding document that details the scope of work, rights, duties, and responsibilities of the contractor and client. It is a legal document that outlines the conditions of an electrical project and protects the electrician, the service company, and the client.
Some of the most critical parts of an electrical services contract include a description of the scope in detail, the pricing and payment details, and any agreed-upon project deadlines or timelines. Also, it contains a list of the specific electrical systems or features that will be installed, along with the plans for wiring and installation.
Types of Electrical Contract
Let's take a look at the different types of electrical contract agreements.
Residential: Residential contracts are best suited for small scale jobs or simple repairs. This type of contract is most often used when a single household is the client and they want to hire an electrician to do household electrical work.
Commercial: A commercial contract is a better option for large scale jobs, such as multi-family apartment buildings or office buildings.
Service Agreement: An electrical service agreement is a non-legal document that outlines the roles and responsibilities of both the client and electrician. It is among the simplest contract forms and the one that can be provided by the electrician themselves.
The Purpose of Electrical Contracts
An electrical services contract is significant and necessary in any construction or engineering project. It provides the grounds for all of the terms and conditions that will be included in the project and should cover everything from the general installation, including piping and conduit, to lighting fixtures and construction of electrical systems.
An electrical contract's purpose is to ensure the electrician has all the information he needs to complete the job; without it, he could simply assume what will be installed, leading to unexpected issues or damage. This can be a problem for the client, making filing disputes or claims more difficult.
In a nutshell, an electrical services agreement aims to ensure the following:
The client and contractor understand the scope of work they will be working on.
They are aware of the necessary material, labor, and time needed to complete the work.
All installations, services, and repairs align with federal and state laws for American electrical contracting (for example, the requirements defined by The National Electrical Installation Standards).
Protect the contractor's reputation by ensuring that all installations are up to code and safe and reliable.
Protect the property owner, as well as his guests and visitors.
Provide a means of settling any disputes or legal claims with the client.
Ensure that both parties are financially protected, including precise pricing and payment arrangements.
Ensure that both parties are protected in the case of an accident or lawsuit.
Electrical Contract Template and Structure
Electrical service agreements often have a very standard structure, so modifying an electrical contract template will help you write your contract customized to your needs.
Your contract may be simple or very detailed, but it should include the following sections:
1. Project definition
This explains what you will do and in what order. What are the phases of the project?
For example, if you are installing a new ceiling fan, the client will want to know the steps involved, from installing a new electrical box for the fan, installing wiring for the ceiling fan, and then finish with installing ceiling fan blades. You should also include any additional services you may provide, such as: installing a wall switch, mounting and installing a light fixture, etc.
Here is how your contract's project definition section may begin:
"Project definition: This project will aim to rewire an existing home to accommodate a new electrical panel. The existing panel is located in the basement and has been determined to be non-functional."
2. Scope of Work
This section should detail precisely what is included in the project and who is responsible for each aspect.
For example, a basic residential lighting and receptacle upgrade would include the installation of new receptacles, switches, and fixtures and removing old ones. The installer would be responsible for mounting the new light fixture into a ceiling box and connecting it to an electrical source.
Here is how you might define the scope of work in your service agreement:
"Scope of work: Wiring an apartment. MyMG Electric LTD. will be responsible for replacing all wires in the apartment with a new wire size of at least #14 for lighting and #12 for plugs and receptacles. The new receptacles and switches will be installed using the same style as the existing receptacles and switches. All new wire will be terminated in boxes at either the switch or fixture location."
3. Cost Basis
This is where the contractor and client agree on the total price of their work. The cost basis section should include hourly rates, materials, labor, and extra fees. This section should be detailed and thorough.
For example:
"Cost Basis. The cost basis of the electrical project is USD 500.00, including 5 hours of design time, 4 hours of labor, and 10 feet of copper wire."
4. Billing/Payment Schedule
This section should include how and when the client will pay you. Make sure to have a payment schedule that details your payment method and due dates. Also, state whether or not you accept any form of payment, such as a bank check or credit card.
5. Service Conditions
This section should define any conditions or restrictions that affect the work. For example, it may state that the electrical contractor must provide a written warranty. Also, the client is not permitted to make changes to the work performed without your consent.
Here is how it may sound in your electric services contract:
"Service conditions. No other electrician may make any changes to the electrical work performed in this installation unless the electrical contractor terminates the electrical service. The electrical contractor will perform any such work at the client's expense."
6. Warranty
This section should state the duration of the warranty, what parts of the work will be covered, and, most importantly, what is not.
For example: "Warranty. The electrical contractor warrants the electrical work, parts, and labor performed on this project against all defects in workmanship and materials at no charge for one year after the completion of the project. Warranty only applies to items of equipment supplied by MyGM Electric Ltd."
7. Obligations and Responsibilities
This section should describe the obligations of each party and their respective responsibilities. It may include the following:
Contractor's obligations and responsibilities:
Perform work and materials as described in the contract.
Provide proper work methods and safety procedures.
Provide appropriate documentation for electrical planning, inspection, and installed equipment or system testing.
Complete the job within specified cost basis limits.
Retain all original drawings and records related to the project.
Client's obligations and responsibilities:
Pay in full all costs of work performed and materials purchased.
Accept and inspect all work performed and materials provided.
Provide proper access to electrical wiring and circuits.
Notify the contractor if any changes are being made or if you move into the unit.
Notify the contractor immediately if the property is sold, leased, or a new owner becomes involved.
8. Indemnification.
Indemnification is a provision in a contract or agreement that requires or holds parties liable for losses or damages. This section should show the obligations of each player involved to pay for any extra costs incurred by the other party due to their fault. In addition, it should define the consequences for one or all parties if the contract is breached.
For example: "Indemnification. The electrical contractor shall maintain all tools, equipment, and materials necessary to perform the work described in the contract. The electrician will be responsible for any costs associated with replacing or repairing these items. Client agrees to pay the electrical contractor for all replacement or repair costs."
9. Termination/Cancellation
This section should detail the circumstances in which either party can terminate the contract and how they must notify one another if this occurs. It should also include specific penalties for early termination.
For example: "Any party may terminate this contract at any time with prior thirty (30) days notice. Client will be responsible for payment of any services not yet rendered. All work performed by the electrical contractor must be completed prior to the expiration of this contract."
Besides these core sections, your electric contract will also include some form of agreement to abide by the mandatory laws and standards that govern electrical work, such as the ones in your state. It should show the provisions for compliance with electrical codes and standards.
What Else to Know Before Writing an Electrical Contract
Before writing your agreement, you must know that many states have different standards and requirements for American electrical contracting.
For example, the Electric Code in Massachusetts is one of the most widely used codes in the country. It regulates almost every aspect of electrical work agreements in Massachusetts. So if your project contruction or engineering business is operating in this state, using the Massachusetts Electrical Code is essential.
Additionally, The International Building Code is a code that is widely used in most states and many countries. Section 2710 of this document mainly concerns the safety of building occupants and is used for constructing and installing electrical equipment, components, and appliances in buildings.
Conclusion
By reviewing these sections of the contract and having a good understanding of electrical work, you will be familiar with the main provisions that are usually included in any contract for electrical work. You can use this knowledge to write an effective electrical contract.
To ensure the best performance and to protect both parties, it is recommended to sign an electrical maintenance template, which would include the full details of the parties, the scope of work, the list of expected duties, project milestones, payment terms as well as the responsibilities and the liability of each of the parties.