5 Best Video Editing Tools for Various Purposes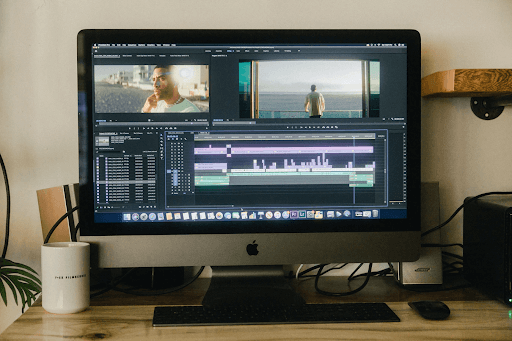 Video editing can have different forms: you may edit a small memory compilation for a TikTok video, brush up a video for YouTube, or create a full-blown film. No matter what you need the video editing software for, there are numerous solutions. You will definitely find a solution that meets your needs.
However, sometimes the choice is so big that you can get lost. That is why we created this list to narrow down never-ending options. We want to introduce the 5 best editing tools in different categories that were designed to meet the needs of different users. We will discover an absolute classic, learn about beginner-level solutions for Windows and Mac, explore the perfect solution for content marketers, and find the best free video software. Keep reading to find the perfect solution for your specific case!
Classic Video Editing Tool – Adobe Premiere
Just like Photoshop won photo editors over, Premiere stole the hearts of professional video editors. Adobe managed to add all features one may need in Premiere and topped it with a user-friendly interface and artificial intelligence.
Premiere runs on both Windows and Mac, supports different video formats from multiple sources, and saves you time by vast customization options. You can structure the video software in the way that suits your working style the best and choose only tools that you need. Premiere also offers team collaborations, Reframe features powered by AI, and great performance.
However, Premiere has a rather lengthy learning curve compared to other solutions. It is no wonder, considering how many features and extra tools are packed within one interface. Premiere offers great tutorials and has a great community, so the process itself should not be a problem.
Such a rich functionality comes at a certain price. Adobe Premiere will cost you $20,99 per month. The price turns it into a solution for those who do editing professionally and will probably need the program every day.
Similar Solutions: CyberLink, Lightworks.
Windows Tool for Beginners – Corel
Corel VideoStudio is a perfect fit for beginner editors and those who see editing as their hobby exclusively. However, if you want to have more advanced tools, you will be able to access them in this video editing software as well. They are not as diverse as in Premiere but are still good.
One of the main reasons why it is good for beginners is its intuitiveness. You can download videos from YouTube or any other platforms and easily import them for editing into this tool. The learning curve is impressively not that long, and you can access free video tutorials by Corel for better understanding. It is easy to work with videos, pictures, and audio in this program.
The other advantage of VideoStudio is that you pay once, without any monthly subscriptions. The video editor will cost you $79,99.
Similar solutions: Nero Video, iMovie for Windows.
MacOS Tool for Beginners – iMovie
The Apple iMovie is a great starting point. It works really well with the Apple environment: you can exchange projects with your Mac, iPhone, and iPad and integrate audio from iTunes and GarageBand. The editor offers great filters, a green-screen tool for easy background editing, and integrations with social media platforms.
iMovie is completely free for Apple products owners. It is yet one reason why it is so popular among beginners. You have no risk of investment if you decide that video editing is not for you.
Similar Solutions: Davinci Resolve, HitFilm Express
Video Editor for Content Marketers – Lumen5
You may have heard that short videos with explanations are more popular now than blog posts. That is why many companies create animated videos next to lengthy texts. They are usually superficial but work well for attracting visitor's attention.
So Lumen5 allows you to create such videos with as little effort as possible. It is powered by machine learning and AI. So you add the link to your blog post and wait for the magic to happen. Lumen5 will choose the most important text elements, add relevant photos and some background music. You can change something here and there if you want to, but overall, you will need no time for such video creation. You can later share it on social media platforms and enjoy the views.
The solution comes for free, but it will have a watermark on it. You can also sign up for different paid plans. Their price varies from $15 to $199.
Similar Solutions: InVideo, Final Cut Pro X
Best Free Tool – HitFilm
You may think that free solutions never offer good things but do not let your prejudice stop you from trying great tools. HitFilm is considered to be the best free video editing software due to its rich feature set that is fitting for both beginners and advanced developers. One of its best features is an auto stabilizer that will automatically stabilize shaky videos with the power of AI. You can also access WAV audio exports, numerous visual effects, and color adjustment tools.
HitFilm comes free of charge. However, you have to make a one-time donation if you want to access more advanced features. The donations are way lower than in any other video editing tool, though. Moreover, you will not need them if you are not creating big commercial products.
Similar Solutions: Shotcut, VideoPad
Conclusion
The world of video editing solutions is endless. However, there is only one piece of video software that will meet your video editing level, needs, and budget perfectly.
We hope that this article sheds some light on great programs and their alternatives for different groups of users. We also recommend going for a free trial in paid solutions to avoid money waste. You never really understand whether the editor is good for you until you actually work with it.