Tool for Successful Business Strategic Planning – Business Management Strategy
---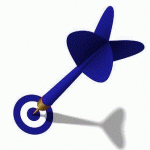 Business strategic planning refers to the art of planning and managing business activities at the highest possible level in a profit organization. Within the business management discipline, it takes one of the central roles is to develop a business management strategy and implement the business management process. Business strategic planning focuses on establishing a solid underlying framework for business management activities through organizing, directing, and controlling the business implementation. As a rule, it's a matter of a company's top management to build a successful strategy for business management and oversee the implementation.
There are three key questions to be addressed by business strategic planning and management:
What are the strategic business objectives and goals of an organization?
What is the optimal way to achieve those objectives and goals?
What business resources are required to make that happen?
Business Management Strategy Definition
Business Management Strategy is a systematic high-level plan of action aimed at planning and performing the business management process in the most efficient way to achieve the strategic goals and objectives of an organization. It aims to establish the organization's business direction and specify policies and management plans to follow it. A business management strategy is a tool of successful business strategic planning that helps make high-level business decisions regarding setting long-term objectives and allocating resources in the direction of implementing the policies and achieving these objectives.
Within the business management system (BMS), the business management strategy is one of the high-level functional groups dedicated to identifying and stating the general business management direction through planning implementation policies and plans. In terms of business decision-making and implementation, it refers to a dynamic process that encompasses all the long-term initiatives which the organization tends to take to produce a benefit and gain revenue.
Business Management Strategy Focus
Typically the business management strategy focuses on generating solutions that could help take an organization to a higher level of business process improvement and growth. In simple terms, business strategy management solutions tend to address following four issues:
Investigating the environment within which the organization will operate.
Stating how the organization sees its role within that environment (mission statement).
Setting goals to meet the organization's needs with respect to both a long-term and short-term view of what the organization can offer (vision statement).
Establishing the organization's goal of doing business management activities stated in both financial and strategic terms.
These four issues are the focus of the business management strategy and one of the directions for the business strategic planning process. The issues can be fully addressed through 1) Development of strategic business management plans and policies and 2) Allocation of business resources. Theses are the tools of the strategy for business management.
Plans and Polices. A strategic plan is a series of long-term procedure to achieve an objective of business strategy planning. Policies are those tools of business strategy management to specify the scope of the strategic plan and identify the extent of business decisions influence upon the implementation of business management tactics. Strategic plans and policies are great tools to do business management tasks and answer the question "How best to achieve a strategic goal?"
Resource Allocation. This tool of business strategy management entails allocating the right amount of business resources (time, money, people, equipment, technology) to different parts of the organization's strategy for business management, so that the properly allocated resources are enough to meet particular goals and objectives. Resource allocation is often planned and managed by means ERP systems.
Business management strategies can be viewed by different angles, such as the business organization approach or the sociological approach for managing human interactions and relations between the lowest and highest level of managerial authority. However, such a strategy is always the foundation for both functional management and operational management. As a tool of successful business strategic planning the strategy gives the major benefit to an organization: it paves the way for performing business management activities and tasks and generating solutions for process improvement.
---