Managing Resource Constraints through Critical Chain Project Management (CCPM)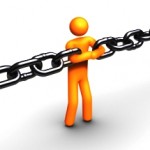 Perhaps, managing resource constraints within projects is one of most intricate tasks that project managers have to deal with. Fortunately there is the Critical Chain Project Management (CCPM) methodology that lets cope with that task by allowing project managers to track aggressive schedules and managing highly skilled and high-price resources.
While a project manager has to concentrate on the project's critical path and manage restricted resources, the CCPM methodology lets get a big picture view of the implementation process through providing the manager with solutions for planning and managing the critical chain of resources. Critical Chain Project Management makes it possible to undertake a special optimization process that combines the task-dependent critical path with the resource-dependent tasks that have an impact on the completion date. Let's view the key steps of the CCPM process for managing resource constraints within projects
CCPM Process
In simple terms, Critical Chain Project Management is a structured process for planning, designing and controlling a project schedule considering available project resources. If looking at the CCPM process at a higher level, it includes the following steps:
Reducing the number of individual tasks assigned to each team member.
Leveraging project resources to remove any resource contentions.
Managing resource constraints through limiting or eliminating multitasking.
Scheduling independent tasks that have no predecessors at a later time/date – this will let focus on critical tasks.
Encouraging teams in completing the tasks as quickly as possible – this can be done through focusing the people on the importance of start times and aggressive task completion (rather than due dates).
Creating a project buffer for dependent tasks to determine a portion of the safety margin time that that protects the project from missing the scheduled end dates and deadlines.
Creating a capacity buffer that determines on-call project resources available to avoid delays due to unforeseen issues happened with the project budget.
Creating a resource buffer that determines limits of the critical resource chain.
Managing all the buffers of the project to maintain preventive and corrective actions.
Through following Critical Chain Project Management concepts it becomes easier to manage both single-project and multi-project environments. The key steps of the CCPM process can be applied to shared projects. Managing resource constraints in multi-project environments is based on the completion date of each individual project for while the overall completion schedule for all the projects there should be visibility to resource conflicts that make a true picture of the overall project management environment.