Five Common Tips on Tracking Time in Projects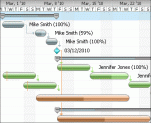 Time tracking is one of the most extensive parts of a project manager's job. Because time is critical to success, it needs to be tracked against the schedule throughout the entire project lifecycle until all scheduled activities are accomplished, the customer accepts the product, and all documentation is closed and archived. The project manager takes primary responsibility for monitoring schedule performance, making necessary adjustments, and taking corrective action. In this article, I want to highlight five common tips on how to make time tracking in projects more effective.
1. Time Tracking is Critical to Success
Today most of us are knowledge workers, and we have to use computerized systems to deal with the wealth of information relating to our job. The speed and accuracy at which we manage and track our job data determine our level of competence and productivity. In other words, an employee is more competent and productive when this individual manipulates data quicker and more accurately using available hardware and software. This employee will earn more chances for success because he/she knows the value of time and intends to eliminate or at least minimize time wasting as much as possible.
Time is considered one of the critical success factors in project management. The ability to plan, manage and track project time determines significantly whether or not the project will be successful. If you know what needs to be tracked in your project schedule, how to manage milestones, which tasks are delayed, and what corrective action needs to be taken, then you get more chances to succeed and complete the project on time. Besides, your professional value increases, and you can exploit new opportunities in your project management career.
2. Select Software for Reporting and Tracking Time in Projects
One of the most significant advantages of tracking time in projects is the time log that provides specific data on the projects and their schedule performance. Project managers can review the time logs of their previous projects (both successful and failed) to schedule current activities and make accurate enough forecasts for future initiatives. And the way to log working hours and collect the schedule performance data is through project time tracking software that enables retaining and sharing the data in one database. Teams will access this database to view, update and retrieve the information they need for tracking project time and reporting on their performance.
When you select software for time logging and monitoring (e.g., projectmanager.com, a web-based solution), remember that the right app will be a solution that lets you spend less time on job tracking and more effort on value generation. Such a solution should provide you with powerful reporting capabilities to create various reports on schedule performance and project state. Also, check whether the system features an easy data retrieval mechanism that lets you locate a particular record or document and deliver it for shared use among your teams.
3. Track Schedule Gaps and Delays with Gantt Charts
A project schedule provides a breakdown of the activities and milestone events that are expected to occur in a predetermined sequence throughout the project lifecycle. This document is one of the critical tools for tracking time in projects. It lets decision-makers monitor performance gaps and delays by providing insight into what is happing and what won't be happening. In case of any unpredictable events (e.g., employee absence, lack of financial resources, system failure, etc.) impacting the project duration, project managers can compare the current time performance with the scheduled one to calculate deviation and take corrective action.
A Gantt chart is one of the most popular visualization techniques for creating 'living' schedules that show the state of work at any given time. It is a type of bar chart that represents the project's start and finish and illustrates the activities scheduled for the project duration. With the help of Gantt charting, you can schedule the work breakdown structure of your project, including task dependencies and relationships between the elements of the WBS. On your Gantt chart, you can keep track of schedule gaps and delays using percentage complete indications. The tool provides time-tracking tips and suggestions on the state of tasks in progress and completed activities. So, if you want to benefit from advanced schedule tracking, be sure the software you're using provides the Gantt chart capability.
4. Update and Share Time Data on a Regular Basis
Any project initiative can be characterized as a progression of steps or activities that develop throughout a specific time period. The key consideration here is that a project is not static but dynamically develops and changes throughout its lifecycle. Any changes made to the project time data need to be identified, tracked and logged in appropriate documents and then be shared among team members. The time data provides the details on ongoing activities, issues, and risks, so when it is regularly updated and distributed, the team can focus on what needs to be done, and they can also efficiently plan for further action.
Using daily or weekly reminders for updating the time data in the schedule and related docs will safeguard your project against wrong data entries and losses. There should be someone in your team who could receive and process change requests and then update the respective documents with the latest data. That person would also share the data with others in the team, allowing for more effective and efficient project time tracking and schedule performance management.
5. Use Advanced Analytics for Tracking Project Time
Advanced analytics on schedule performance provides a number of benefits for the project team. Notably, by using a detailed report on how the working hours are spent and at what cost, each team member can see the benefit of spending extra time for higher pay. The team leader can understand current time management issues, predict future outcomes and develop a corrective action plan accordingly. The project manager can use reliable metrics to analyze schedule performance, track time-related gaps, and understand the rationale behind possible improvement decisions.

For example, you can try CentriQS data analytics solution to analyze the time performance of your project and related entities such as tasks, schedules, etc. This solution uses OLAP cube data that let's create various reports in the form of the pivot table. Mainly, you can create a pivot table showing whether the project tasks are on schedule – there is the Deviation field lets you adjust the schedule and track project time by Estimate, Remain, and Actual. The customization capability in CentriQS allows using advanced analytics for tracking time in projects. You can customize your projects by creating new custom entities, properties, workflows, tables, etc.