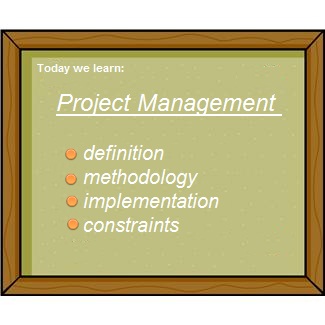 project management definition: what is PM?
Project management (PM) is an efficient and complex toolkit that gives you visibility into possible ways of managing your endeavours, from conceptualization and initial planning to implementation and successful completion. PM is important because it allows you to increase the probability of success and reduce the likelihood of risk occurrence.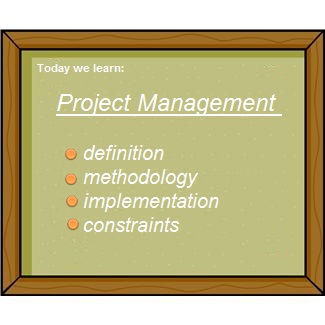 Classic Definition
In the literature on project management fundamentals, there are several common definitions showing this phenomenon in different views. However, there's a traditional project management definition given at the mid-1950s and since that time it has obtained the status of classic definition.
The classic project management definition states the following:
Project Management is the science (the theory) of organizing all components of a project, stepping through all implementation stages and phases, providing and managing all resources, protecting the project from potential risks, solving problems and managing changes for the purpose of achieving initial goals, developing the product, and delivering desired results.
The art of managing projects is about achieving the following strategic goals:
Develop an effective working environment that contributes to making an effort of managing projects
Maintain activities and procedures and continuously improve their effectiveness
Establish and maintain project documentation
Enhance the implementation process by efficiently responding to risks and managing changes
Establish and maintain effective communications between project participants
Review progress and make relevant updates
PM Methodology
PM involves choosing, using and implementing a methodology to initiate, plan, design, execute, control, measure and report activities, tasks, procedures and processes. The traditional or classic project management methodology is a system of methods, techniques and studies that tell you what should be done to manage your projects, from initiation to completion.
The classic methodology specifically describes every step in the project life-cycle giving you visibility into tasks, processes and activities required for successful delivery. It helps you understand when and how to perform each piece of work. And no matter whether you're an expert or just a beginner, the classic methodology tells you what you have to do to complete tasks faster and more efficiently.
It allows implementing a traditional management process that involves taking a project through the five stages: Initiate, Plan, Execute, Control & Monitor , and Close (read PM Guidelines to learn more on this point).
Every kind of project requires using specific methodologies. If you're going to launch a software development project, a marketing campaign, a service promotion event, or whatever else, you should choose a methodology that best fits your project's type and size. For example, IT projects are often managed by using adaptive approaches.
5 Steps
The traditional methodology is closely linked to the PM process. This process is regarded as a combination of high-level phases or basic steps, as follows:
Initiation and Definition
Planning and Scheduling
Execution and Implementation
Control and Monitoring
Reporting and Closure
Time, Money and Scope
These so-called "constraints" comprehensively characterize any project. They can help you define your management style and describe your undertakings.
Time Constraint. Time is the only resource that is unmanageable, in essence of this word. We can't manage or drive time as it naturally goes by and there is no force that could change the speed of time passing. However, we can fit our activities into time so that our projects could be better organized in terms of time constraint. The traditional project management definition involves using time management techniques and methods to develop schedules, plans, to-do lists, and timetables.

Money Constraint

. It refers to funding or project finances that allow investing money (financial resources) from internal and external sources. The classic PM definition involves using finance management methods and tools to establish and manage relations between the manager, the team and the sponsor (owner) in order to develop a foundation for initiating, controlling, and maintaining flows of necessity financial resources.

Scope Constraint

. It refers to expected scope of a project in terms of deliverables (results to be delivered) and goals and with reference to a combination of requirements and specifications. Common PM definition entails implementing scope management techniques and tools to identify goals and deliverables and then put these characteristics in line with the requirements and specifications.
The art of traditional project management involves the project manager in combining the constraints and finding the balance that could allow the project to be optimized. By changing any of the constraints you will certainly have an impact on the other two, so on the project in whole. For example, if you reduce the amount of working hours to be spent on your project, then this change will affect the scope (less time available for doing tasks and jobs) as well as the cost (reduced budget to meet your project schedule). To become a good project manager, you should always remember about the constraints and note that the classic project management definition engages you in applying techniques, methods and tools to managing time, cost and scope of your projects.