Choosing between PRINCE2 Qualification Levels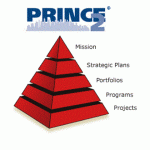 PRINCE2 is a flexible methodology of project management (PM) that can be applied to almost any projects regardless of their size and type. The methodology allows focusing on the several constraints (Cost, Time, Quality, etc.) to drive projects on schedule and succeed in benefits realization, while minimizing risks and ensuring acceptable quality.
In this article, I talk about the PRINCE2 qualification levels and briefly describe each of the levels in order to help you choose between the levels. Hopefully my work will help you understand the methodology and the qualification levels.
PRINCE2 Methodology Overview
What is the PRINCE2 methodology? It is a structured, non-proprietary project management approach to managing projects. PRINCE2 stands for "Projects in Controlled Environments". The index "2" means that this approach is the second edition. It's announced in 1995 and adopted by a consortium of 150 European organizations. The first publication of this PM methodology was in 1989 by CCTA (Central Computer and Telecommunications Agency) in Great Britain (according to Wikipedia).
The key feature of this methodology is that PRINCE2 lets follow several principles to isolate the project management aspects of work from the technical aspects. This capability allows both individuals and organizations to focus on managerial roles and duties of people participating in project, and use the approach to build a flexible framework for successful accomplishment of project work.
The methodology allows managers to get focused on controlling six key variables, such as Cost, Time, Quality, Scope, Risk and Benefit. Through following PRINCE2 best practices, an organization can clearly indentify what their project is to deliver, why, when and by whom. The organization's project gets more chances for success because:
It follows a consistent approach
It is controlled and organized from the beginning through the middle till the end
While in progress, it is regularly evaluated and reviewed against the baseline plan
It is justified against the business needs
Qualification Levels
Once you've decided on studying the method, your first step is to figure out which qualification level you need to achieve and why. There are two PRINCE2 qualification levels, as follows:
PRINCE2 Foundation
PRINCE2 Practitioner
PRINCE2 Foundation Level
This level will be best for those people who need to learn the fundamentals and the terminology of the PRINCE2 approach. If you decide on this level, the PRINCE2 Foundation level will let you start your PM career with no trouble about your knowledge.
At the same time, not so many organizations will be ready to assign you to the project manager's role, because PRINCE2 Foundation training doesn't make you a project manager who really can do projects. You will be just a person who can operate the terminology and follow the methodological principles and best practices. The key benefit behind obtaining a qualification in PRINCE2 is that it will improve you employment prospects so more organizations will look at your CV, and your current employer will probably provide you more career advancement opportunities.
PRINCE2 Practitioner Level
This qualification level is the highest one, that's likely to be suitable for those people who have a need for managing agile-based projects and leading teams within a flexible business environment. You can choose the PRINCE2 Partitioner level to become a qualified project manager who has a PRINCE2 certificate and have more chances to be assigned to the project manager's role in project environments.
No matter of your choice, once you've graduated PRINCE2 training courses and obtained one of the qualification levels, you get more than just knowledge in the field of PM – you gain an invaluable asset that can accelerate your career, increase your PM employment prospects, and help you feel comfortable within PRINCE2 project environments.