Project Team Collaboration Tips – How Teams Work Together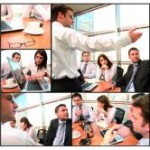 How can project teams collaborate? Are there a few collaboration tips that let managers simplify team building activities and establish team collaboration? In this article we'll focus on several keys tips on establishing effective team collaboration. We'll also describe how team collaborators with solutions for document management, meeting management, virtual team management and communications management.
Team Collaboration Tips
A few tips on how to establish and manage collaborative efforts of a project team cover the following:
document management
meeting management
virtual team management
communications management
Collaboration through Document Management

For many projects, document movement is regarded as one of the key criteria for building cross team collaboration and allowing team members to work jointly towards completing shared goals and tasks. Well-tuned document management is the guarantee that numerous participants of a project can move towards one and the same direction and undertake collaborative activities. The implementation of a document management system is required for establishing effective teamwork and organizing project participants into productive and collaborative a team. Such a system should be accessible by group members who share documents.

Collaboration through Meeting Management

Organizing project meetings is always the way to collaborate with team members. Various meetings provide opportunities for building effective teamwork. Meeting management software allows using agendas, to-do lists, schedules, minute taking tools, attendance recording tools, and virtual tools to plan and prepare project meetings. Such software helps managers make team collaboration cost effective because decisions are taken immediately just after a meeting is finished, priorities are changed, and necessary information is delivered to the team. A meeting management system is required to prepare and conduct meetings. It could be scheduling software that allows using to-do lists and schedules to prepare meeting agendas.

Collaboration through Virtual Team Management

A virtual team is a collaboration mechanism that unites people located in different places into a single work group. Virtual team management is the way to link team members to each other through building a virtual working environment. Virtual collaboration software is required to develop and maintain such an environment (for example, SharePoint-based collaboration environment) in which project participants located at numerous time zones can easily share data, communicate with each other, and report on results to senior management. Additionally, telephone conversations, teleconferencing and teleworking tools are necessary for establishing virtual collaboration.

Team Collaboration through Communications Management

Among the mentioned tips, communications management is the "number one" tip because effective project communications are 90% of success. If team members can efficiently communicate with each other and easily share information, then the project is likely to be smooth and without interruptions. A communications management system can be a single solution that combines all the features of the systems mentioned previously. It's the way to reduce collaboration cost through managing document flows, planning meeting agendas and presentations, and establishing teleworking.
In the world of project management, team collaboration is a way of life. Simple projects and complex PM offices can be hardly organized without well-established teamwork and collaboration. A smart manager will always recognize the benefits of collaborative teams.