Project Quality Control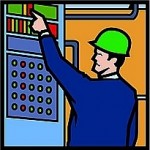 Project quality control refers to a set of procedures aimed at monitoring and recording status and results of executing the quality management plan and implementing the quality strategy in order to measure performance levels and generate recommendations for necessary changes.
Quality control procedures are performed throughout the project life-cycle. They allow identifying causes of poor quality and recommending actions to eliminate quality gaps and adhere to original user requirements. The quality control process is undertaken QA Department, or another similar organizational unit.
Project QA Department deals with results of the project management team's activities. The scope of dealing is defined and described in the project quality management plan. The department uses quality metrics, quality checklists, and work performance indicators to take control of the project product quality and to compare planned performance with actual one. The department also utilizes project quality control standards and policies, work guidelines, approved changed requires, and submitted issue reports to manage quality.
Tools
The following tools are used by QA Department to perform the quality control process:
Cause and Effect diagrams
Control charts
Pareto charts
Flowcharts
Run charts
Scatter charts
Histograms
All these control tools support a graph-based approach to managing and measuring the product quality. The tools are generally accepted; however, new and non-typical techniques for controlling project quality can be also applied. The quality department decides on a set of QA techniques and tools to be used throughout project implementation. The project manager takes active role in decision making and applying chosen tools and techniques to performing the QA activities and procedures.
Solutions
The process results in generating project QA solutions that allow achieving the following:
Validation: all occurred changes have been analyzed by Quality Control Department and then they have been either validated or rejected. The correctness of deliverables has been determined and deliverables have been validated.
Updating: both the quality management plan and the process improvement plan have been revised and updated.
Lessons Learned: Causes of variance, corrective action plans and other types of lessons learned are documented. Lessons learned documentation becomes a part of the historical database for the project.