How to Set and Achieve Goals of a Project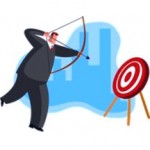 Many people involved in managing projects and setting project goals face one and the same difficulty that refers to proper goal setting and achieving. The difficulty is that those people cannot realize what things within their projects are really important; they may also have weak motivation goals; they do not plan for future activities and cannot forecast efficiently; they do not understand the importance of setting measurable goals; etc. The list of reasons for improper project goals setting can be supplemented with other reasons. If you want to learn how to set project goals properly, in accordance with your expectations, and how to achieve those goals within expected deadlines, then read this interesting article.
As a project manager, you are in charge of setting goals and defining the main course of action. You are likely to have too much work to perform and not enough time to do it, so in order to take your project through successful completion, you need to learn some ways for getting proper project goals setting. You need to be really focused on goals management if you want to achieve success. The best way to get focused is to set Three Project Goals and then work hard to achieve these goals. The following guide will tell you how to set the goals.
Identify What's Important
The first step in setting and achieving project goals is to identity what things in your project are really important to you and the rest people involved. The theory of goals management says that everything in projects needs to have a priority, that is to be prioritized. This means you should talk to your project sponsor to identify what things are really important and critical to achieve. While negotiating with the sponsor, try asking this question: "If there were three critical things that our project had to deliver, then what would they be?" The sponsor is likely to say that it would be great if the project was delivered on time, under budget and according to specifications. These three examples of goals are common and can be applied to most projects. By using decision making techniques you and your sponsor might develop other examples that would completely meet your expectations. For example, your project goals could refer to producing three key deliverables or gaining three major business benefits.
Set Critical Things As Goals
You need to determine critical things and turn them into project goals. There is an efficient technique of project goals management, called "SMART" (Specific, Measurable, Attainable, Realistic and Timely). SMART allows you to set specific, measurable, attainable and realistic goals that can be achieved in a timely manner. Your goals should be short and simple yet cover all your and the stakeholders' expectations. If you try to set 4 or more goals, you are likely to forget them within a short period of time making them harder to achieve. When setting up project goals you may choose any other goals management techniques but you should remember about 3 goals.
Share Your Goals
Your project goals and objectives won't be successfully achieved if you do not communicate them to the team. You need to tell your team members about three project goals and then make sure that everyone in the team knows well what has to be done and by when. At the project kick-off meeting you can describe your goals and then during the course of the project you will need to arrange regular meetings and state current status of the goals. By communicating your project management goals and objectives to the team you are likely to find more solutions that will help you cope with project issues.
Develop An Action Plan
Having the project goals in front of you every day will help but you also need to have a detailed action plan to achieve the goals. Your project plan is too common and does not depict how to achieve specific goals. Creating an action plan for achieving project goals means identifying all the tasks that will specifically help achieve your three goals. In your action plan there should be defined the "high-priority" tasks for the project. Then you need to assign your best resources to these high-priority tasks and make sure the resources have everything they need to achieve the prioritized tasks.
Keep The Project On Track
As a good project manager who can set priorities and diversify own efforts, you need to focus on the high-priority tasks in your plan while your team will focus on the rest tasks. You should daily track progress of the prioritized tasks. When any issues related to the tasks arise, you need to take immediate actions to resolve them, as quickly as possible. In case you cannot track all the tasks associated with your project goals, you can delegate your duties to your assistants who will help you track the progress. You should do everything in your power to make ensure the high priority tasks are accomplished on schedule which means you are about achieving the goals and leading your project to success. Properly keeping your project on track and taking immediate steps in case of necessity means that your project goals management wasn't just time wasting.