Business Investing Checklist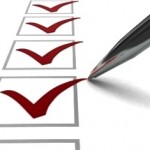 An effective decision on investing money resources in some business can be made with help of the following business investing checklist that gives a series of tasks and steps for successful implementation. When you decide on making business investments you can try to use the checklist presented in this article. It will help you take the three steps of effective business investment planning to successfully review the investing opportunity, assess the risks surrounding the project, and investigate the reputations of people involved.
We will focus you on the following steps:
Review the Opportunity
Assess Risks
Evaluate HR Involved
Step#1: Review the Business Investment Opportunity
The first step of the business investing checklist describes several tasks you need to accomplish to review and assess the business investment opportunity before committing your financial resources. Let's view the tasks.
ROI. As accurately as possible, you need to try to figure out an expected ROI (Return On Investment) and then calculate the payback period for your future business investment. If your estimates fit into your profit expectations and the payback period is acceptable, then current business opportunity gets more chances to be approved. Also you can try to communicate with other potential investors on the opportunity and find out their viewpoints and considerations.
Assumptions. Any business investment opportunity involves some assumptions and projections that can or cannot meet the goals and objectives of your financial plan. You need to review all the assumptions made and then ensure that you get the right understanding of the pros and cons. Also you can seek for help outside by communicating with other business investment companies and getting professional service from business investing advisers who have reviewed and analyzed the situation.
Marketing. The business investment opportunity requires some marketing plan for successful implementation. You must review an existing marketing plan and proposed options of promotion and advertizing and then further work on considering business investing. Ideally the marketing plan will provide a scenario of successful implementation that generates a profit (not a loss!) to you.
Break-Even. It is highly important for your success to figure out the date when the business investing opportunity is expected to reach the break-even point. Having identified the date you can better figure out the planned ROI and find out when you can expect to get a profit.
Step#2: Assess Risks of Business Investing
Effective business capital planning requires you to identify, analyze and evaluate all the threats and uncertainties that surround the investing opportunity. When you exactly know what the risks are you can develop a better contingency plan and make a well grounded decision. So assessing the risk is the second step of the business investing checklist. Let's view the key tasks.
Likelihood of Failure. You can't start efficient business investment planning without having considered your potential losses. You should exactly estimate how much money resources you could lose on the investment in case of failure. Also you need to assess the probability of failure. Besides, it is strongly recommended to check if there are any regulatory requirements and business capital planning standards that need to be followed and ensure that they are.
Direction. For mitigating business investment risks it is important to review and agree upon the direction your money resources will be moved towards. There should be a plan that specifies that direction and includes business investing templates. By knowing the direction you get more control over the business investing project.
Legal Concerns. The business investment opportunity will certainly fail if it is implemented out the legal environment. That's why, before making any money you must be sure that the opportunity meets the legal requirements. You should find out if the opportunity allows you to legally invest further sums of money in the future.
Security. To assess the risks of business capital planning you need to find out if your potential investment is secured by assets which are fully insured. Also make sure that the business you are going to invest in is up to date with all its tax liabilities and responsibilities.
Step#3: Evaluate HR Involved in Business Investing
Things can't just happen without people. In your business capital opportunity there will be people involved. You must find out as much information on those people as you can. And this will be the third step of the business investing checklist. Consider accomplishing the following tasks.
References. First of all you can make inquiries regarding the people involved in the project and try to get some references and recommendations from a credible third party. This information will help you feel more comfortable with the personnel.
Advisers. As an option for reaching effective business planning you can try to communicate with competent and professional business investing advisers who can rate the employees you are going to work with.
History Review. It would be helpful for you to make the best decision on business investing if you could review the history of the people (shareholders, officers, directors, planners) involved in the business plan implementation. This history review will help you learn about the reputation of the implementers and make your own judgement regarding their efficiency.
Doubts. In case you have completed your business investing checklist but still have any doubt surrounding the key personnel involved in the investment project, then it may be worth for you to employ an outside lawyer and also business investing advisers who will investigate the staff and make their own conclusions regarding backgrounds of the employees.
Conclusion
Any project for investing money in a business is a complicated matter that requires you to use your analytical skills and abilities to review the business investing opportunity, assess risks and evaluate the personnel involved. The given business investing checklist has demonstrated you the three key steps that can help you reach effective business investing planning.