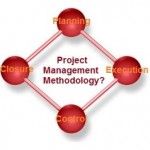 Without a doubt, a properly defined and strictly followed methodology for managing a project provides a firm guarantee that the job will be done on time, under budget and as per client specification.
What is a project management methodology? How can it be defined? In simple terms, it is a must-have to avoid failure and reduce risks because it is one of the critical success factors as well as the core competency of the management team. It is the straightforward way to guide the team through the development and execution of the phases, processes and tasks throughout the project management life-cycle.
What is a Methodology? The Definition in Project Management
The term "project management methodology" was first defined in the early 1960s when various business organizations began to look for effective ways that could simplify the realization of business benefits and organize the work into a structured and unique entity (which was called "project" later on). Communication and collaboration were the key criteria for establishing productive work relationships between the teams and departments within one and the same organization.
Since that time, the term has been changed and modified many times, new definitions have been created, new elements and functions have been added. Today we consider a project management methodology as a set of broad principles and rules to manage a specific project that has a definite beginning and end. Below is the current definition of methodology.
Project Management Methodology is a strictly defined combination of logically related practices, methods and processes that determine how best to plan, develop, control and deliver a project throughout the continuous implementation process until successful completion and termination. It is a scientifically-proven, systematic and disciplined approach to project design, execution and completion.
The purpose of project methodology is to allow for controlling the entire management process through effective decision making and problem solving, while ensuring the success of specific processes, approaches, techniques, methods and technologies.
Typically, a project management methodology provides a skeleton for describing every step in depth, so that the project manager or program manager will know what to do in order to deliver and implement the work according to the schedule, budget and client specification.
Referring to the above mentioned definition, an appropriately chosen project management methodology paves the way for gaining the following achievements:
The needs of stakeholders are defined
A common "language" is established and understood by the team, so they know what's expected of them
Cost estimates are complete, accurate and credible
Every task is done using a common methodological approach
Most conflicts are spotted and resolved early
Expected deliverables are produced and handed over
Lessons are learned and solutions are quickly implemented
Methodology in Project Management Framework
Project management (the acronym "PM") provides the framework of planning, doing and delivering projects of any kind, size, nature and type. PM framework focuses on the realization of desired change in line with a chosen methodological approach. Actually, change is the core aspect that should be managed. PM framework identifies and defines how to best manage change. And methodology serves as the "way" to systematically realize change in terms of time, cost and quality.
Managing projects means describing and performing the activities required to meet the specific objectives of making change.
For example, writing a book is a kind of project in which the objective is to write a book. This objective can be fulfilled by a series of activities, including defining the topic, collecting material, creating a draft, typing, proofreading, others. So in terms of project management, the author needs to define and then complete all the necessary activities in order to write a book (which means make change).
PM framework is a structured collection of all relevant knowledge on how to make change methodologically. It doesn't describe an exact algorithm of how to manage a specific project but it provides a broad overview of various and different methods, rules, processes and standards. In this regard, project management methodology can be defined as a level of PM framework.
Here's a simplified example of how a project methodology can be presented in the management hierarchical structure:
Project Management Methodology Types
In project management there are a variety of approaches and methods that can be employed in managing different kinds of project. All the types of project methodology can be conditionally divided into traditional and modern approaches.
Traditional Approach
A traditional approach involves a series of consecutive stages in the project management process. It is a step-by-step sequence to design, develop and deliver a product or service. It entails achieving the succession in the implementation process and provides the benefits of milestone-based planning and team building. In IT and software development, this methodology type is called "Waterfall" – one portion of work follows after another in linear sequence.
The following stages are included the traditional project management methodology:
Initiation (requirements specification)
Planning and design
Execution (construction and coding)
Control and integration
Validation (testing and debugging)
Closure (installation and maintenance)
Modern Approaches
Modern methodologies do not focus on linear processes but they provide an alternative look at project management. Some of the methods are best for IT and software development, while others can be implemented in production, process improvement, product engineering, and so on. Modern PM approaches use different models of the management process.
Project Management Methodology Examples
It is the matter of a project's type, size and nature to select the right methodology. Here are the most popular PM methodologies:
PMBOK® Guide
Although A Guide to the Project Management Body of Knowledge IS NOT a PM methodology in its "pure state", many people regard it as the methodological approach to planning, executing, controlling and terminating various projects. Meanwhile, the PMBOK® Guide is a broad inventory of best practices and ideas on planning and implementing projects. Please note that it is just a guide but not a project management methodology.
PRINCE2
PRojects IN Controlled Environments 2 (PRINCE2) presents a suite of process-driven methods and documentation-oriented approaches that allow driving various projects in the private sector. It was developed the UK Government, and today this great example of project management methodology is used both in the UK and internationally.
CPM
Critical path method (CPM) explores the most important or critical tasks of a project by defining possible activity sequences and estimating the longest duration of each sequence. It helps figure out how long it will take to complete the work and what tasks will compose the scope.
Lean
Lean PM methodology intends to maximize customer value and minimize resource waste. Lean project management lets organizations create higher value for their customers with fewer resources. This approach achieves perfection in customer satisfaction and value generation through implementing an optimized process flow that eliminates waste in products, services, transportation, inventories, etc.
Six Sigma
The method of Six Sigma was originally developed by Motorola to improve its production processes by eliminating defects (defined as "non-conformity of a product or service to its specifications"). Today Six Sigma is one of the most popular and worldwide trusted examples of project management methodology for ensuring the accuracy and speed of a process's implementation through eliminating or minimizing waste.
CCPM
Critical Chain Project Management (CCPM) is the way to plan, implement and review various kinds of work in single- and multi-project environments. This management methodology uses Theory of Constraints (TOC) and the concept of buffers to establish improved task durations and manage resource-dependent tasks and activities.
SCRUM
SCRUM is an example of Agile PM methodology that involves teams in producing a software product in 30-day "sprints" and monthly "scrum sessions". In a SCRUM-driven project, the deliverables are broken down into 30-day intervals. This methodology example is specific and applicable mainly to collaborative, 100%-dedicated teams, with no heavily constrained time and materials budget.
Project Management for Students
Project management for students is a vital part of the education and training process. Students can easily get a project management degree, but it does not mean that it comes as easy as taking the homework. Students need to take into account some important aspects if they want to manage a project properly.
For instance, choosing the best admission essay writing service is of great importance because if for some reason the student cannot deliver a high-quality essay in time, he will most likely fail the course or even worse he will be expelled from the college or university.
Students should prepare well for the project or the essay. They need to research on the topic beforehand, keep track of what is going on, write on time and work within the deadline.
This will allow them to catch up with their fellow students, focusing only on what they have to do and not worrying about what other people are doing.