Which Printer Cartridges Are Better: Original or Compatible?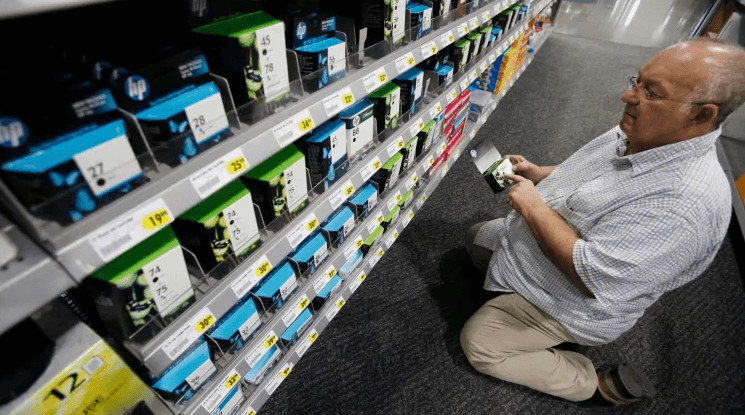 When it comes to buying cartridges for printers there is generally a big decision for purchasers to make. Should you buy an original, branded printer cartridge, or should you try compatible ink for printers? It is difficult to say for certain which is better; original printer ink or compatible printer ink. This is because different people have different opinions on what makes something better. Therefore, we have looked at the differences between these types of inks on what usually matters most to buyers.
Original vs. Compatible Printer Cartridges
Original ink cartridges are the branded versions that are usually supplied with the printer when it is purchased. The brand of printer will have cartridges specific to that model that can be bought directly from the manufacturer or other stores.
Compatible ink cartridges are not created by the manufacturer of the printer. Instead, printer ink companies have developed alternatives to original inks that work with the branded printer in the same way.
Is there a Difference in Quality?
When compatible inks first started to be produced the quality wasn't very good. Low quality printing output, leaking cartridges and not being recognized by the printer were all issues that gave replacement printer cartridges a bad name. However, the industry has come a long way and replacement inks can now be as good, if not better, than original counterparts.
Original printer cartridges are usually the default for most people when choosing ink for printers. This means people aren't choosing them because of the quality, they are choosing them because they think they should, or because it's easy. Compatible inks on the other hand are created by specialist ink companies. These companies rely on the quality of their products to encourage customers to return. This means that customers have often noticed that the compatible ink cartridge produces better quality printing that an original.
Is there a Difference in Price?
When it comes to buying cartridges for printers, the price might be the deciding factor about which is better. Again, when original printer cartridges are the default purchase people will often overlook the price. Genuine branded printer ink is known for being expensive and customers are enticed by offers when they purchase their printer. However, if you take the time to find the alternative compatible ink you will usually discover that the price is a lot less and companies have the full range of cartridges for printers for all brands available.
You are likely to find that if you print a lot, you will see greater savings!
Which is Better?
This really does depend on what is important to you. If you like to stick with original branded ink because you have never an issue with it then this might be what is most important to you. If the quality of the printing is the most important then you should try out a reputable compatible ink company and see whether you think the ink is better quality. If price is most important then head over to a compatible ink company and see the savings you could make!
What about remanufactured cartridges?
Factory-remanufactured ink cartridges can be a good alternative to new original or compatible cartridges. Remanufactured or refurbished cartridges are those that have been returned to the original manufacturer or its authorized agent to correct one or more (technical or visual) issues  before it is restored to a re-saleable condition. The word "refurbished" can also refer to second-hand or off-lease printer cartridges that have been professionally tested and restored and then offered for retail sale.
Often, refurbished and factory-remanufactured cartridges have a limited warranty period (up to 3-5 months) and offered at a significantly lower price (up to 20-35%) compared to equivalent new cartridges, depending on what defects have been removed by the manufacturer. You can check the individual product page for specific information on the warranty period for the printer you are looking at.