Indicators That Vinyl Decals Are Right for Your Business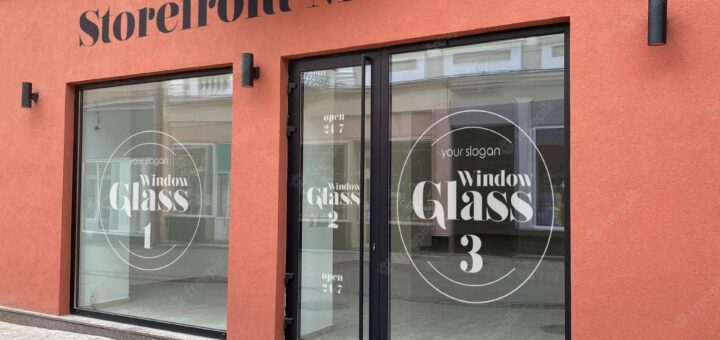 Attraction and retention of customers is vital to any brick-and-mortar business, and you have a few routes available to you while doing so. One of the most potentially useful across several different industries: The use of various forms of window graphic advertising, among which one of the top single methods is utilization of vinyl decals.
Vinyl window decals are one of many related branding and marketing products you'll find at top providers like Signazon, who assist clients across a number of industries with all such needs. You might be considering several different forms of physical advertising ⁠— what are some telltale signs that window graphics, and particularly vinyl window decals, might be perfect for your needs? Here are several to keep in mind.
Your Customers Need Basic Information
If your business is the sort where customers and passers-by can benefit from a quick dose of information before they even enter, vinyl decals are ideal. For instance, many restaurants use them to list their hours, as do retail storefronts. This is an important part of the customer experience, and one you don't want to overlook.
Another common use within this realm is to post various announcements, such as "Now Hiring" or "Under New Management." These basic facts can be useful to those considering your brand reputation, and window decals make it easy to change them out as needed.
You're Looking to Improve Foot Traffic
One of the single areas where vinyl decals can make a big difference for your business is in foot traffic. If you're looking to increase the number of people who come through your doors, this is one of the most effective ways to do so.
Vinyl decals can be used to draw attention to special sales or events, or simply make it clear that your business exists and is open for business. The more people who are aware of your business, the more foot traffic you're likely to see.
And as all business owners are well aware, foot traffic is a vital source of income.
You Want a Cost-Effective Solution
Another big selling point of vinyl decals is that they're relatively cost-effective, especially when compared to some other methods of advertising. For example, a newspaper ad might run you hundreds or even thousands of dollars, and it only lasts for a day or a week.
Vinyl decals, on the other hand, are a long-term solution that can last for years with proper care. And since they're so easy to apply and remove, you can change them out as needed without incurring any additional costs.
For instance, if kept inside or within shady conditions, vinyl decals from a top provider like Signazon will last for up to 10 years, and often even longer. Even vinyl decals that are designed outdoors should last at least five years before requiring replacement, making them a very cost-effective solution.
Improvements to Location Privacy
Another significant benefit of window decals is that they offer some added privacy for your business. This can be extremely beneficial in a number of industries, including healthcare, therapy, and law.
If you need to maintain client confidentiality or simply don't want people peeking in at your business, vinyl decals are an easy way to do so — while still providing clients with easy access to your business information, such as hours and contact information.
For instance, it's common to see frosted or opaque vinyl decals on the door or front window of a therapist's office. This offers some privacy while still letting clients know they're in the right place.
Maximizing Visual Advertising Space
Using every bit of available advertising space is crucial for any business, and that includes your windows. If you're not taking advantage of this prime real estate, you're missing out on a big opportunity.
Vinyl decals are an easy way to turn your windows into mini billboards, advertising your business to everyone who passes by. If that space isn't being put to good use, it might as well not exist.
There are endless possibilities for what you can do with window decals, and the sky is the limit when it comes to creativity. If you can dream it up, there's a good chance it can be turned into a vinyl decal.
Customization Options
With today's modern technology and design capabilities, the sky is the limit when it comes to vinyl decal customization. You can choose from a wide variety of colors, fonts, images, and designs to create the perfect look for your business.
And if you can't find what you're looking for, many providers also offer custom design services to create the exact decal you have in mind.
This is a big advantage over other forms of advertising, which are often much more limited in terms of customization. For example, you can't exactly customize a newspaper ad to match your brand identity.
Improved Aesthetics
Another important consideration is the aesthetics of your business. First impressions matter, and you want potential customers to have a positive impression of your business from the moment they lay eyes on it.
If your windows are cluttered or uninviting, it can reflect poorly on your business as a whole. But if they're decorated with beautiful, well-designed vinyl decals, it can give your business a much more polished and professional look.
This is especially important for businesses that rely heavily on foot traffic, such as retail stores. If your store windows are unappealing, potential customers may just keep walking.
Brand Recognition
Brand recognition is another of the most important benefits of window decals. In today's competitive marketplace, it's more important than ever to make sure your business stands out from the crowd.
Vinyl decals are an easy and effective way to do just that. By featuring your logo, tagline, or other branding elements on your window decals, you can make sure potential customers remember your business long after they've seen it.
There are countless other potential benefits of window decals for businesses, but these are just a few of the most important ones. If you're thinking about using window decals for your business, keep these benefits in mind — and be sure to utilize top providers like Signazon for all your vinyl decal and other window signage needs.