A Guide to Developing an Impressive and Memorable Brand Identity in 2022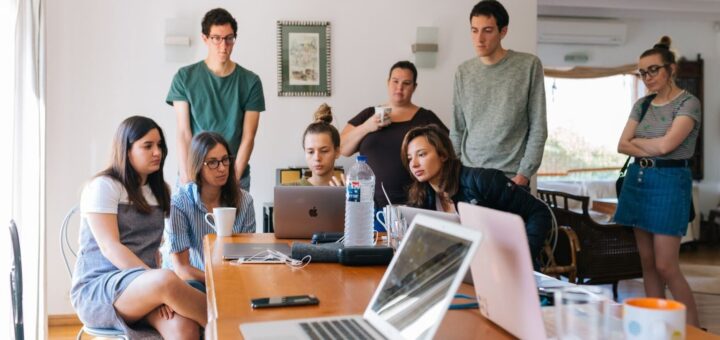 Learn the seven techniques to develop a unique brand identity in 2022, followed by web design companies, creative agencies, and branding agencies.
Do you consider "brand" and "brand identity" to have the same meaning and usage? According to a well-known website design company, both terms hold different meanings and cannot apply as an alternative. Don't be surprised if you don't know this; most don't. As a result, your business might face a huge setback and fail to stand apart from the competitors.
The brand signifies how the audience perceives your business, while brand identity represents the essence of your company, your values, and your personality. It is also very common to interchange the term "brand" with a logo. The logo is just one of the multiple digital assets of your company. In contrast, brand identity is assembling all the visual elements like logo, color scheme, typography, design, brand voice, and more. Ideal creative agencies focus on logos and all the visual elements to create the desired impact.
We are at a stage of market growth where every second, we see a new person starting their business. And let's not forget the already established ones. They are getting stronger and better every day, with or without the support of expert branding agencies, leaving us feeling like there's nothing left to come undone.
It's challenging to stand apart from competitors in such a highly competitive market, despite whether you're a startup or an established business. A solid brand identity is crucial to developing a memorable, recognizable image and demonstrates your uniqueness from other competitors.
Let's learn about the top seven ways that can help you to develop an Impressive and Memorable Brand Identity in 2022
Audience Understanding
Knowing your audience is critical because, if you don't know who your target audience is, you can never create a memorable brand identity that appeals to your customer. Knowing your targeted audience, what they want from your brand, what's their interest-dislikes, occupation, gender, age, etc., benefits you in creating a brand voice that directly speaks to them.
Having no or minimal knowledge can lead you to target the wrong audience.
A suitable example is if your business has a baby shampoo product, your target audience can not be teenagers. It is more likely that mothers will be your priority target audience in such circumstances.
Competitors Study
Building a memorable brand identity is all about being unique. Your competitors are the ones who provide similar kinds of products to the same or similar target audience as yours. To have the spotlight on ourselves in this never-ending market, you need to be doing something that makes the audience believe that no other brand can offer such a product other than you.
By analyzing your competitors, you can gain insight into what other companies are doing to build strong brands and develop a unique strategy to differentiate yourself. This will also help you learn the techniques that didn't work or back-fired, which results in a negative direction.
Make sure to avoid copying your competitors. That won't satisfy your purpose. The ideal goal here is to be unique and to do better in what they are doing.
Create Brand's Personality
Developing a brand's personality is essential to creating a unique brand identity. A successful brand has a unique identity and glorifying nature. It is often assumed that brand personality relies solely on the brand and what it wants to portray to consumers. But, alongside this, brand personality is also majorly influenced by the audience.
As your entire business revolves around the audience, your brand is more about the audience and the people you interact with. Therefore, the personality and values should shine bright whenever the audience interacts with your brand.
As humans, brands have different types of personalities. Therefore, your brand must have a character that resonates with the customer.
Specify the Brand's Voice and Tone
Like the design elements, brand voice also plays a vital role in developing a memorable brand identity, which is why consistency is essential. Your brand voice reflects in your marketing campaigns, social media posts, advertisements, and all other mediums of communicating with the audience. This is the voice and tone you will use everywhere when talking with the targeted audience or customer.
Whether it's friendly, sassy, professional or funny, etc., whatever you prefer, you need to be consistent to allow it to make a memorable impression. It should be unique and make the audience feel adored.
Creative Visual Identity
Visual elements define your brand and are the look and feel that your brand carries and conveys throughout all the platforms of the online space. Your brand's visual identity consists of your brand's digital assets like logo, color palette, typography, forms, shape, etc.
The brand's visual identity set a very impactful impression on the first-time viewer. Therefore, try to be unique and meaningful with the visual elements to resonate with the audience and stand you apart from the competitors.
Brand Name
We all know the importance of the business name. There are multiple factors to be considered while deciding on the title. First, you must be very particular about your brand name. It should be unique, eye-catching, simple to utter and evoke a positive vibe. Within a word or few, it should speak about everything your customer wants to know about your brand and what your brand wants to say to its customers.
Before finalizing, do consider running the name on google and check if it's already in use by any of your competitors or under a trademark. You would also like to be sure if the name is available to be used through your social media handles.
Brand Position
Designing your brand to capture a defined space in the audience's mind and customers relative to your competition is called the process of brand positioning. In simpler words, the brand position is the provenance of your brand against your competitors.
For example, you can not be a high-end semiconductors manufacturer and a budget-friendly business simultaneously.
Reaching the right targeted audience can give you a specific brand positioning idea, but it's possible only if your product and service offerings are appropriately positioned.
To differentiate, you can use your USPs like hand-made, cruelty-free, dermatologically tested, etc.
Let's start making your brand identity impressive and memorable
A strong, impressive, and memorable brand identity is a must in today's competitive world. If you want to achieve set goals, you can not take brand identity lightly. With the proper brand identity, you can reach the targeted audience, resonate with their needs and assure them to provide a quality product.
Nail your brand identity, so your audience knows what to expect from you and feels valuable. Create a strong loyal with your audience, so they gain the trust to invest in your business and keep purchasing from you promptly.
It takes time to create a brand identity that is unique and memorable. You can not expect it to be achieved the next day. The seven ways mentioned above would lead you in the right direction. Lastly, don't miss out on having consistency because consistency is the key to achieving the set goal.