Working from Home, or How to Benefit from Telecommunicating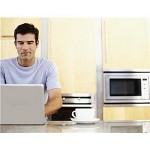 Today telecommunicating is a great chance for many workers to reach work-life balance while working from home. According to the research of the Telework Research Network, interactive technologies allow about 3% of the American employees to do their job not at the office but directly from their home computers.
Moreover, the estimates prove that almost 65% of people working at the office have ever considered the opportunity of adjusting their schedules with their personal life by means of telework. Those respondents look at telecommunicating as a flexible and cost-effective way to match their family needs and convince their managers while working from home.
In this article I'm going to give the basic tips on how to benefit from telecommunicating. Here I describe how to convince your manager that working from home can be productive and that you can be a great telecommuter.
Start small
Telecommunicating is challenging anyway, especially if you're not experienced in this type of communication. Lack of consensus decision, poor goal setting, system failure, distrust between teammates are just a few reasons why it is a challenge.
That's why you must start small. You shouldn't try to telecommunicate all of your tasks at once but involve little effort and select those tasks which are simple. Plus, you should agree on everything (including goals, productivity requirements, job reporting) with your manager so that there will be no disagreement while working at home.
Tips
! To start small while telecommunicating, I suggest you do these:
Figure out how you could work at home (whether your computer is good enough, whether your family members are ready for this kind of work, etc.)
Meet your manager to discuss the major points of your telework (including such things as requirements to productivity, reporting, performance criteria, etc.)
Agree with your manager on the tasks you will do at home
Dedicate 1-2 days per workweek for telecommunicating within the first month, then increase the number of days each next month (only if you demonstrate accepted productivity and meet the performance criteria)
Point out the benefits
After the first couple of weeks of your telework, you can try to evaluate your job results and figure out what benefits your company gains from telecommunicating. The idea is to understand the benefits and use them as the main argument in convincing your management of the need to continue the experiment. Learn more about  how business can benefit from remote workers.
So when you're back in the office, talk to your manager about how remote work benefited the company. For example, you point out that telecommunicating allowed you to avoid morning traffic and start your workday at home earlier than if you were in the office. Also discuss your performance report and how your productivity is changed for better because of telework.
Tip
! In order for you to understand and point out the benefits of telecommunicating, I suggest you take these actions:
Look at your performance reports and compare your home productivity against your office productivity. Can you say you're more productive now? Are the deadlines of your tasks met?
List all the benefits your employer can potentially gain from telecommunicating
Meet your manager to point out the benefits
Agree on further opportunity of virtual work and collaboration
Communicate with the Office
Telecommunicating does not mean that you have to work apart. Quite the contrary, this kind of work requires you to be a great communicator who should closely contact with the office by phone, fax, messenger, email, remote desktop software, etc.
You must do your best to communicate with your colleagues, management and customers in order to make your remote teamwork much efficient. Remember, working from home is a challenge so be ready to keep track of your emails, incoming SMS, etc.
Tips
! In order for you to be effective while telecommunicating, ensure the following:
There is a daily schedule of communications with your manager
A kind of remote desktop software (e.g. TeamViewer) is installed and ready for use on your home PC
Your office phone calls are forwarded to your home number
Your cell phone is always on and kept handy
Fax, email, messenger are tuned up and ready for use as well
You know how to get in touch with your co-workers, team leader and customers
Focus on deadlines
Though it is natural to follow deadlines, you must remember that often teleworking breaks productivity. And the last thing you want is that you report on reduced productivity and broken deadlines.
Tip
! So when you plan your next workday at home, I suggest you remember about these points:
First of all, make a list of deadlines you need to meet daily
Prioritize urgent and important matters in your agenda
Communicate with your manager to settle issues arisen during the day.