Business Process Improvement – A Four-Step Model
Business process improvement is critical to a growing organization that needs to continuously analyze and refine its business processes and ensure the effectiveness and efficiency of business management activities. When the processes are well tuned and adjusted to current needs of the organization, the probability of success gets higher, and the organization is about to earn more competitive advantages in the marketplace. Business process improvement is one of the prioritized management activities to create a foundation for continuous development of the organization.
Improvement Model
What is business process improvement? It is an initiative to develop strategy that could help an organization to meet long-term goals and objectives. It is the way to keep a process continuous and productive through monitoring and responding to changing customer needs. The business process improvement strategy allows the organization to meet demands of the customers through reviewing existing business processes and adapting these processes to the changing needs of the customers.
The initiative for improving business processes can be represented as a model that consists of four consistent steps. Often it is managed and implemented with help of business process improvement software. Here is a picture of the model.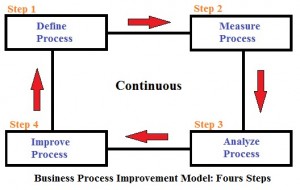 The business process improvement model includes four steps, as follows:
Define Process

This step of business process improvement is about investigating business processes and their characteristics to find any disruptions. Once a disrupted business process is revealed, business consultants and advisers should prepare a description of the process that will be the process definition. This description will be used for measuring process parameters at the next step.

Measure Process

To take this step to improving business processes, the company should develop (or adopt) and approve a system of performance indicators to measure process input and output and calculate process productivity. By means of business process improvement software the company can make necessary calculations and estimate process efficiency. Once this is done, a spreadsheet of the process measures should be developed. It will be used for the further analysis.

Analyze Process

Performance indicators will show whether the defined process is efficient or not. Analysts will use business process improvement tools to conduct Quantitative analysis and Qualitative analysis. Results of both analyses should be listed in a table that summaries ways for improving the business process.

Improve Process

Once the process is analyzed and both quantitative and qualitative metrics are investigated, the next step is to improve the process. Business process managers will follow the ways for improvement identified at the previous step to make the process more efficient and reduce the probability of process failure.
The steps for enhancing business processes are coherent. The company can use this model continuously because any process can improved any time. Business process improvement software will help take all the steps and organize all necessary paperwork.